JOE ZAWINUL

"It was fun to play with these guys. They are talented young musicians and we have much fun doing what we are doing..."
Joe Zawinul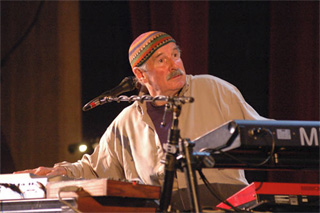 (see more photos by Danilo Codazzi at allaboutjazz.com)

While every one of Joe Zawinul's albums are great to hear, nothing quite rivals the experience of seeing Joe Zawinul live. He is an incredible, synthesis-driven musician combining just about every style, mood and flavor from around the world into a totally unique sound. His improvisational "team sport" approach requires all the musicians in his band be in top musical/athletic form. His live concerts are always an unforgettable experience that go deep to the soul.

As the consummate jazz-rock maestro, Joe Zawinul may be in his early 70's, but he sounds like he is in the prime of his life! His latest release ''Vienna Nights' (preview below) is the best evidence to date of how truly amazing this Austrian legend is as performer, composer and bandleader.

From his earliest days in traditional jazz with Maynard Ferguson and Cannonball Adderley, to his legendary recordings with Miles Davis, Joe Zawinul has always been innovating new music, new sounds, and new ideas. With Weather Report, he set the mark of excellence in the jazz-rock genre that produced a massive amount of ground breaking music from 1971-1986 (see Weather Report section at bottom). With his award-winning classic, "Birdland," Joe quite literally changed the entire world of music. Jazz-rock would never be the same.

With the formation of the Zawinul Syndicate in 1987, Joe transformed out of the super tasty Weather Report gymnastics into a world-jazz sound that incorporated many more multi-cultural/ethnic influences. In many ways, Joe's musical evolution has been one becoming more and more human...more tribal... more down to earth. And he has done this while continuing to advance his electronic prowess by constantly inventing new waveforms, radical rhythms and imaginative sampling. His true genius may lie in his improvisational song writing...he has written over 700 tunes!

Grammy-nominated albums like "My People" and "World Tour" in the late 90's secured Zawinul's status as keyboard player par excellance. His 2002 release of "Faces and Places" (see below) showcases his compositional talent to its fullest. Today, Joe continues to garner "best keyboardist" in Downbeat magazine (over 28 times!) and his current band lineup of young, fresh talent will undoubtedly help pave the way for even better "Z" music to come. If "Vienna Nights" is any indication, we are definitely looking forward to it.

Jazz-Rock.com pays humble tribute on this page to Joe Zawinul who truly remains the jazz-rock pioneer and master to measure all others... wise... burnin... cool... and oh so inspiring and free! The Z man is definitely a legend in a category all his own: an improvisational musician of the highest order. Thanks for it all Joe and may the best years be to come.

-The Editors-


---
NEW 2005 DOUBLE LIVE CD!!!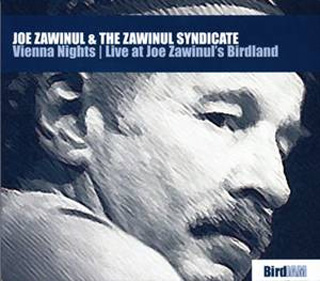 "This record is very nice... because the groove is so solid I can be much more spacious in my way of expressing myself." Joe Zawinul

VIENNA NIGHTS
Live at Joe Zawinul's Birdland
(released May 23, 2005)

Click here to preview the whole album (requires flash)

Disc One
1. Y'Elena
2. Two Lines
3. Do You Want Some Tea Grandpa
4. Chabiba
5. Blue Sound / Note 3
6. Rooftops Of Vienna
7. Louange
8. East 12th Street Band

Disc Two
1. Cafe Andalusia
2. Borges Buenos Aires
3. Tower Of Silence
4. Intro To A Mighty Scene
5. Come Sunday
6. Three Postcards
7. Badia 8. Boogie Woogie Waltz

"We're setting some high standards because we sing, we entertain and we bring a high grade music. That was always the thing I wanted to do in my life and I learned this not from Duke Ellington, I learned this when I was in Vienna. That was the old musician standard. You had to go out there and play faultless, first grade music and entertain people... I am totally into this, man, and it's been wonderful. I've been playing better than ever and we just continue growing." Joe Zawinul

Recorded at his own club (Birdland) in his home town (Vienna, Austria) on his own label (BIRDJAM / BHM Productions), Vienna Nights is a musical celebration of one of the living legends of jazz who, at age 73, is still very much on top of his game. Indeed, Joe Zawinul hasn't lost a step, as evidenced by his typically torrid solos, razor-sharp attack and grand orchestral keyboard arrangements throughout this exhilarating live two-cd set, which documents the current edition of his Zawinul Syndicate in full stride and showcases the master at the helm of his most powerful band since Jaco-era Weather Report. "It's the best band I've ever had," says the proud patriarch of his multi-national juggernaut. "From a groove standpoint, it's just unreal, man. And when we get out and tour, we're gonna shock people because the record is very, very good but we've even taken it up a notch or two since then." The energy level is bristling and visceral throughout Vienna Nights, which was recorded in two separate week-long engagements at Zawinul's Birdland club in May and September of 2004. "It was fun to play with these guys," says Joe. "They are talented young musicians and we have much fun doing what we are doing on this record." ...this article by Bill Milkowski continues at: Zawinulfans.org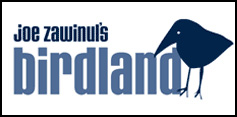 "It's a place where one can hear world class music and where the public - the prominent visitor, the international guest and the little guy on the street, too - can feel comfortable. New York has a big soul, we also have a big soul - and that's why our Birdland should have a Viennese character." Joe Zawinul

Joe Zawinul's "BIRDLAND" club in Austria:
The Jazz Corner of the World

Joe Zawinul personally chooses the program for Vienna's newest jazz club "Birdland" - named after one of his most renowned compositions and the legendary New York temple of jazz. And quite often, Zawinul himself performs in his club. Birdland is an elegant jazz and music club with enough room for about 200 people to experience first-rate international and Austrian musicians from the realms of jazz, pop and world music. Visiting groups perform for at least one week. To the more or less outlandish sounds from all musical styles, culinary delights of the highest quality are served – thus providing total satisfaction to all senses.


"Birdland in New York," Joe Zawinul remembers, "was known as the Jazz Corner of the World. At the time, there were numerous great jazz clubs in the city, but none of that class. At Birdland, you found the best jazz musicians and bands. Duke Ellington and the Count Basie Orchestra, Miles Davis, Dizzy Gillespie, Cannonball Adderley, Ella Fitzgerald, Dinah Washington: this club simply had it all. For me, it was the most important spot in my life." Zawinul personally will see to it that the Vienna Birdland will become a deserving counterpart to this "most important spot" - by inviting young talents and stars to Vienna and by initiating new musical projects as well as encounters with the native scene.


---

NEW LIVE "ZAWINUL SYNDICATE" DVD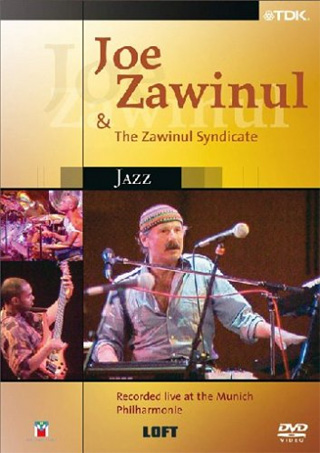 For those of you with PAL television systems, this new DVD (just released in April 2005) was recorded Live at the Munich Philharmonie in 1989. It is available at the German Amazon.com site. Hopefully the DVD will be available in NTSC format soon for those of us on the other side of the Atlantic!

Musicians:
Joe Zawinul - Keyboards
Gerald Veasley - Bass
Scott Henderson - Guitar
Cornell Rochester - Drums
Leata Galloway - Vocals
Carl Anderson - Vocals
Bill Summers - Percussion

Video Tracks:
01 March Of The Lost Children (Joe Zawinul)
02 Medicine Man (Joe Zawinul)
03 Black Water (Joe Zawinul)
04 Solitude (Duke Ellington)
05 Shadow And Light (Joe Zawinul)
06 Improvisation
07 Little Rootie Tootie
(Thelonious Monk)
08 Carnavalito (Joe Zawinul)

---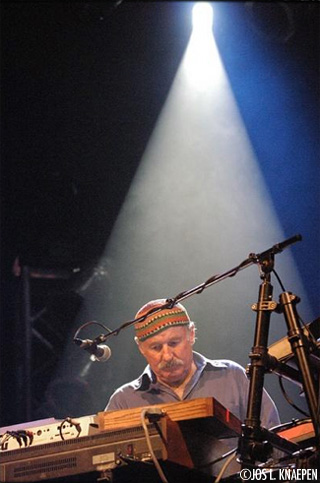 (see more photos by Joz L. Knaepen at jazzreview.com)

"Faces and Places"
World-Jazz At It's Very Best
Joe Zawinul, at the age of 70, has brought forth an album that continues to celebrate his endless delight in exploring music from around the world. Born in Vienna, he studied at the conservatory there, moving to the United States in 1958 when he received a scholarship to the Berklee School of Music in Boston. He worked in the '60s with a variety of the era's jazz luminaries (Maynard Ferguson, Dinah Washington, Cannonball Adderley) before encountering Miles Davis. The trumpet player's In a Silent Way was named for Zawinul's title track. This led to the formation of Weather Report, the band he co-led with Wayne Shorter for 15 years. Faces & Places mixes vocalists and instrumentalists with daring grace. "Rooftops of Vienna" is a wistful ode that's tinged with the sweetly sad backward glances of a man growing older and finding his boyhood home darting through his dreams. It uses singers as part of the musical stew, rather than as a narrative component. With its blend of exotic acoustic instruments and contemporary electronics, this set is very much in keeping with the direction of Weather Report from the time of Black Market and beyond. --David Greenberger.


---

THE WEATHER REPORT YEARS

"Weather Report is a true fusion band in the best sense of what fusion should be. I mean Weather Report truly did fuse jazz traditions with rock traditions, with some rhythm and blues with world music, but you never got the sense with Weather Report that the fusion was artificial or scientific. It was always incredibly organic and natural. And also, unlike a lot of other fusion bands, with Weather Report, they always managed to preserve that jazz depth and the jazz spontaneity in their music. Weather Report's music always sounds raw and on the edge and real." Joshua Redman

FROM "ZAWINUL ONLINE"
KEN BURNS' JAZZ--THE FUSION TRANSCRIPTS
by Curt Bianchi

This week I watched the final episode of JAZZ, the Ken Burns documentary. I was aware that the Weather Report tune 'Birdland' is included in the companion CD set. I was also aware that Burns had squashed the last thirty years of jazz into the final episode. I was curious to get his take on the past three decades, wondering if Weather Report would receive at least a passing nod as a noteworthy development in the music. But as those of you who watched know, there was no mention of Weather Report, and little mention of fusion excepting Miles Davis' supposed sell-out in making Bitches Brew. In fact, the thing that sticks in my mind is Branford Marsalis' summation of jazz in the seventies: "Jazz just kind of died. It just kind of went away for a while."

Nevertheless, I discovered some interesting material at the PBS JAZZ website; in particular, transcripts from Burns' interviews with the various on-camera personalities. Aside from providing insight into Burns' techniques, these transcripts demonstrate that Burns was fishing around for thoughts on the worthiness and significance of fusion. Just what did Wynton, Giddins and the rest of the gang have to say to Burns about Weather Report in particular, and fusion in general, had Burns deemed it worthy of inclusion in the film? Without fanfare, Zawinul Online presents the following excerpts that didn't make it into Episode 10 of JAZZ...

Click here to read the entire article at Zawinul Online...

---

"Each note counts... When Wayne and I improvise, solo and accompaniment fuse into one... we weave melodies and set the stage on fire." Joe Zawinul

The Evolution of WEATHER REPORT
by Joe Zawinul (as told to Greg Armbruster at webarchive.org)

When I first met Wayne Shorter in '59, I had only been in the United States for a week or so. After I joined Maynard Ferguson's band, we needed a tenor player. "Slide" Hampton, the trombonist, and I auditioned three tenor players in one afternoon: George Coleman, Eddie Harris, and Wayne Shorter. For this particular audition, Maynard trusted us to make the right decision, and we picked Wayne. He was only in the band for about a month and when he left, we didn't play together for many years, until we did In A Silent Way in I969 with Miles Davis. After Bitches Brew [1970], Wayne, [bassist] Miroslav Vitous, and I decided to make a band. We didn't know anything about each other as far as playing was concerned. When Wayne was on the road with Art Blakey, I was on the road with Cannonball Adderley. I n those days we hardly ever listened to records; we just tried to survive. So the first record, Weather Report, was a feeling-out period. We had never played a live gig together before we recorded it. We did the album in three days, and our feeling was "What's happening here? What is this?" We knew we could improvise very well together, but it was not a very forward, or, let's say, a very powerful record; we were more laid back.

On the second album [I Sing The Body Electric], side two was a live recording from Japan. Eric Gravatt [drums] was in the band and we were cooking already. But we realized that even though it was a good record, we had to make a living. I have a big family and Wayne has a big family. Somehow we had to survive. I had come out of Cannonball's band, and naturally, I wanted to play a little funkier than we were playing at the time. Miroslav, being a great bass player in one way, was not the bass player for other things we wanted to do. I had written a few pieces like "Boogie Woogie Waltz" and '125th Street Congress" for the third album [Sweetnighter] which required a little more versatility. Eric Gravatt was not the drummer on these tunes; not that he couldn't have done it, but with him it was a mental thing. He just didn't have his heart in it. As a plain jazz drummer, I think he's the greatest we have ever had, with perhaps the exception of Peter Erskine or Omar Hakim. So we had to hire a drummer and a bassist to play the grooves we wanted. it was an awkward situation. Here we had a band and we had to hire outside musicians to play instruments which were already supposed to be played by the members of the band-it started getting weird.

The third record did very well for us because it was moving. I would call this the second period. The first two records were investigation: "What can we do?" By the second record we realized what we could not do, and that's what we wanted to do on the third album. Wayne and I were always pretty much on the same wavelength, especially in trying to make decisions as to what we wanted to do. But I realized that if I did not step up with a totally different force, we were going to disappear. Wayne was writing beautiful music, but it was more romantic, Brazilian influenced. It didn't bother me, but I knew we could not build on that. From an ego standpoint, we had tasted the success of being poll winners and respected in the music world. How long did we want that? That's when we moved from New York to California.

For the fourth album, Mysterious Traveller, I wrote my compositions right here in my home. The first pieces I wrote in this house were "Jungle Book ... .. Nubian Sundance," and "American Tango." Wayne wrote beautiful music for this album too, and it was a hell of a record. That's when we made the change with the bassist. Sure, we had three albums out, and the third album did sell much better than the first two, but the recording company was not all that interested. They knew they had a prestige band and had faith in us, because we won Record of the Year awards in different countries, and so on. However, at that time, they didn't know what to do with us. Mysterious Traveller was another kind of story. All of a sudden we were a power band. I feel that when we came up, musically we were the top band; but there were other bands that had a lot of power, like [guitarist] John McLaughlin's Mahavishnu Orchestra. There was a beautiful band. They had a lot of power but they ran out of gas because there was not that much there to sustain it. We were not in a hurry to do that, because we knew we were going to have a lot of stuff up our sleeves that we could stretch out with, and have room to do new things we hadn't done before.

That fourth album was a breakthrough for us. However, the album was so good that we couldn't follow it up with a five band. Even though we had Alphonso Johnson [bass] in the band, we couldn't find the right drummer to play all these different things. After Eric Gravatt we had Greg Errico, who used to play for Sly And The Family Stone. He's a world-class rhythm and blues and rock drummer, but he could not play any jazz. That limited us, so after Mysterious Traveller we had to make another change. We got Ishmael Wilburn, who was already on the record, to go on tour with us. He was great when he just played, but when we were all of a sudden out there in the world and everybody was coming to see us, somehow he couldn't do it - he lost heart. So we needed another drummer. We actually had two drummers on the bandstand: Ishmael Wilburn and Daryl Brown. Dom Um Romao was also up there playing percussion. AI Johnson brought Daryl in from Philly; he was an excellent, but light, drummer. That was the band's hardest time as far as live performance was concerned. The music was so demanding; "Nubian Sundance" is one of the hardest and longest of our pieces to play, but we did it well. Dom Urn was a great help for the band. After he left, we had another Brazilian percussionist, Alyrio Lima.

The next album was Tale Spinnin'. We didn't have a drummer, but Ndugu [Chancler] played drums on the record. Then AI Johnson brought in Chester Thompson from Baltimore; Chester was playing drums with Frank Zappa at the time. We also had heard about [percussionist] Alejandro Acuna, and after we hired him, the whole thing started coming together. We had a hell of a rhythm section. We toured Europe and had great success everywhere. After that, we made Black Market.

AI Johnson had been on Mysterious Traveller, Tale Spinnin', and part of Black Market when he told us he wanted to quit. He wanted to form a band with George Duke where he was the co-leader, rather than just a sideman. We felt that everybody should do what they wanted to do, and by that time I had already met Jaco [Pastorius]. Jaco had sent me a tape of his band, and I was really impressed with the way he played; but I wasn't sure if he could really play funk. [Drummer] Tony Williams had played with him, and assured us that Jaco could play anything. Jaco was a great Cannonball Adderley fan, and I had written a song called "Cannonball," so I said to myself, " it might be a good idea, just for the fun of it, to have Jaco play on that tune and audition him at the same time." We flew him in, he played on the tune, he wrote a song for Black Market, and the rest is history!

Without question, our next album, Heavy Weather, was a real breakthrough for us commercially. it was a great-sounding album and it was played as well as we have ever played in the studio. We let Chester Thompson go and Acuna started playing drums. Then we hired percussionist Manolo Badrena. Manolo is another great one; one of the giants of percussion. When I fired Manolo, Acuna moved over to the drums, and we worked as a quartet. Acuna was the only one who played percussion in the band and then moved over to the drums.

We were working well as a quartet, but we weren't working enough. So when Acuna decided to do something else, Jaco brought in Peter Erskine. That was the beginning of our most successful period, as far as mass appeal. The success of Heavy Weather opened up things we hadn't been able to afford, like the lasers and full production we took on the 8:30 tour. But after this record, which had a certain stylistic bravura, things calmed down. We had to do another album, but because Wayne was doing a lot of music outside the band, he didn't have much music for us. I was working on a solo album at the time, so we used most of this material for Mr. Cone. This was the first album I cut at home. It was an experimental album for me. Steve Gadd and Tony Williams played drums on it, and we cut it on eight tracks.

Our next project was the livealbum, 8:30, which was also another breakthrough. We had finally reached a level of performing that surpassed most bands I've ever heard. Over the years we had always had great bands, but sometimes on stage we had a tendency to play a little bit too long. There was a period in jazz where everybody played real long; I think it was almost an illness. There was a lot of "swimming" going on. We tried to reduce the swimming somewhat and get more to the point. What we ripped off on the 8:30 album as a quartet, I think, was incredible! It was all live and there was very little overdubbing. The only overdubbing was done just to clean certain things out, like a hiss, a buzz, or something like that. "Brown Street" was recorded right here at home. Jaco was supposed to come to the rehearsal, but he had been arrested. So Peter Erskine, Wayne, my son Erich, and I just started playing and it was " Brown Street." It was originally recorded on a cassette, but we put it on the record and the naturalness always remained. We also used the music from this tour for the Night Passage album.

After the 8:30 tour, we were locked in a little bit - not musically and not like prisoners of success, but the acclaim we achieved lead to certain habits. it's really hard to describe, because the moment we came out onstage, it was as if the Rolling Stones had come out - it was something else! And I think that Jaco, who was very responsible for a lot of the success we had, was susceptible to certain gimmickry; more than anyone else in the band. But we played so well; and I feel that as long as you play well, you can do any thing and get away with it. The 8:30 tour was actually the best tour Weather Report has ever done.

Jaco and Peter left after that summer tour in I98I. We had travelled to Europe, Japan, Australia, and South America. Then we recorded the second Weather Report album, which was the beginning of a new period. It was more or less a transition album, because Peter was already touring with other bands and Jaco wanted to have his own band, which was understandable - everybody wants to check that out. We were scheduled to tour in November that year [I98II,when Weather Report was supposed to come out. Peter had already signed with the Brecker Brothers to tour in March '82 and Jaco was going out in the spring with his group. But we couldn't finish the album; it was very difficult for us. One time, Wayne and I were in the studio for 46 hours trying to finish it so that we could tour when the album finally came out. Our manager at that time, Joe Ruffalo, said "I'm going to cancel the tour and we'll make this album right." And that's what we did; we made a nice album and we canceled the tour. But the next tour wasn't until the February [I982I release of the album, so we couldn't have Jaco and Peter.

Wayne, Jaco, Peter, and I were real close friends; we still are. We were a family. We did as much laughing, eating, and having fun as we did music. We welcomed that November tour; we said " Let's see what will happen." But by the time the album was finished, we had no band at all. I was going back and forth to Austria because my mother was dying, and then we had problems with our management. As great as they were for other people, they didn't really know what to do with us. So it was spring I982; we had a contract signed and we couldn't change the tour. We already had several lawsuits because we canceled the November tour. We had to go out on the road, otherwise we would have been finished as a band. About three weeks before the tour, I called [jazz violinist] Michael Urbaniak in New York. He goes to all the clubs and knows a lot of musicians. He said, "I know this guy, Omar Hakim; he's a genius. He's the greatest drummer in New York." I got in touch with Omar, and at that time he had a deal coming up with Warner Bros. to do his own record. He's also a singer and guitar player. He plays all the instruments and wanted to do his own thing, so he wasn't sure he could make it. The time for the tour grew closer and closer, and finally he said he would do it. We had never met, but I asked him to find a percussionist and a bass player, because we didn't know anybody who could do the tour with us. We trusted Omar to bring the right musicians. Omar got [bassistl Victor Bailey and [percussionist] Jose Rossy and we signed all three of them before we ever met them; we trusted Hakim.

Two and a half weeks before the tour started, Omar, Victor, and Jose walked in and started rehearsing. We would've really been in trouble if they couldn't play. it was just one of those things, and I call this our real fortunate period, because we could have really been on ice. It was tough, and after a couple of weeks we hit the road. After one month playing in the United States, we went into the studio and recorded the Procession album. Then my mama passed away and my family spent some time in Austria. We didn't do anything for the rest of the year.

In 1983 we did 86 concerts with this band, and it really developed into something else. In my opinion, this is the best all-around band we have had. We can play anything and everything. Everybody is excited and everybody is trying to learn. Wayne is playing twice as good as he's ever played, and I'm doing my best to improve myself. It's an incredible little ensemble. We're doing one album a year now, and in 1984 we'll be doing five tours. Each tour will only be two and half weeks long, so we'll only be out for three months.

Over the years we've learned a few things, and thanks to our experiences, we know we can survive - no matter what happens. Even if most of my equipment breaks down out there, which has happened, even then another kind of function takes over. It's not panic, but it's that certain reserve you have, like an old fighter who's been in the ring for many years. His knees are shot, but he has enough wisdom to carry him over and not get hurt. That's what we have always been able to do. - Joe Zawinul



(see more photos by Danilo Codazzi at allaboutjazz.com)

visit Joe's official website:
www.zawinulmusic.com

additional links on Joe Zawinul:
www.binkie.net/zawinul
www.zawinulfans.org
www.zawinulsite.com
www.innerviews.org
www.jazzreview.com/zawinul






MIDNIGHT JAM
Another double live CD!!!
(soon to be released)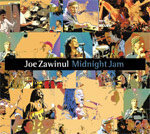 Joe Zawinul celebrated his 70th birthday with many friends and companions at the Leverkusener Jazz Festival 2002. Together with his Syndicate, he invited friends and musicians to a special birthday celebration. This exceptional concert-experience is now going to be released on double live CD from ESC Records. With "Midnight Jam" one can experience the Austrian and his music not only on his usual very high artistic interpretative level, but also in exciting new ways. Half of the sessions are interpreted by the WDR Big Band under the direction of Vince Mendoza. The typical Zawinul compositions exude quite a new shine and drive when played in a big Big Band setting.

Whoever has seen Joe Zawinul and his Syndicate live knows that his studio CDs bristle with a certain amount of musical vitality and expression. But when performing live the 73 year old musician can still kick it up even higher, to a new energy level. Inimitably, as with the energy with which he drives his bands, there is no trace of artistic fatigue in his music. After having released "Faces & Places" in 2002, an album that earned one prize after another, he now presents "Midnight Jam", a new CD that covers the complete range of his musical versatility and talent. For quite some time now there has been no comparable music that even comes close to matching Zawinul's groove, intensity and genre encroaching style-mix.

Check out ESC Records for updates on when the Midnight Jam will be released.


---

JOE ZAWINUL STAMP
The Pride of Austria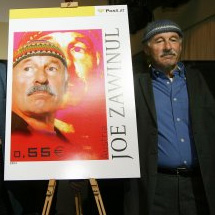 The stamp was presented on May 24, 2004 at the Vienna jazz club "Birdland" in the re-opened Hilton hotel in the presence of the artist himself and a number of special guests. Vienna-based graphic designer Renate Gruber designed the stamp, which was produced in six-color halftone photogravure.

This edition, which is limited to 700,000 pieces, is available at more than 500 of the largest post offices in Austria, for a price of Ř 0.55. The stamp was produced by the Austrian State Printing Office, a long-term partner of Österreichische Post AG.

November 19, 2003 was the first time that Vienna dedicated a stamp to one of the greatest jazz musicians of our time, Oscar Peterson, which was presented when the artist came to Vienna. More stamps will be issued with actor Klaus Maria Brandauer and The Rolling Stones.


---

Cannonball Plays Zawinul CD
NEW RELEASE on Capitol Jazz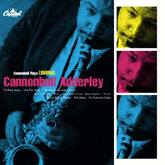 Two years after young Austrian pianist Joe Zawinul arrived in the United States, he joined the Cannonball Adderley Sextet. Before long, Zawinul began writing for the group. By 1965, he emerged as the band's principal composer, providing them with their most progressive and commercial material. This collection, selected by Zawinul and Bob Belden, represents the cream of Zawinul's time with Adderley and ranging the supremely soulful "Mercy, Mercy, Mercy" to pieces like "Ndo Lima" and "Dr. Honorus Causa" which previewed the later developments that Zawinul made with Weather Report. Five of these 10 performances make their first appearance on the CD. (click here to preview)


---
JOE's BIO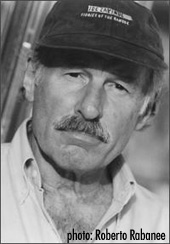 Born: July 7, 1932 in Vienna, Austria
Genres: Jazz.
Styles: World Fusion, Soul-Jazz, Fusion, Hard Bop
Instruments: Leader, Keyboards, Piano

Joe Zawinul belongs in a category unto himself -- a European from the heartland of the classical music tradition (Vienna) who learned to swing as freely as any American jazzer, and whose appetite for growth and change remains insatiable. Zawinul's curiosity and openness to all kinds of sounds made him one of the driving forces behind the electronic jazz-rock revolution of the late '60s and '70s -- and later, he would be almost alone in exploring fusions between jazz-rock and ethnic music from all over the globe.

He is one of a bare handful of synthesizer players who actually learned how to play the instrument, to make it an expressive, swinging part of his arsenal. Prior to the invention of the portable synthesizer, Zawinul's example helped bring the Wurlitzer and Fender-Rhodes electric pianos into the jazz mainstream. Zawinul also has became a significant composer, ranging (like his idol Duke Ellington) from soulful hit tunes to large-scale symphonic jazz canvases. Yet despite his classical background, he now prefers to improvise compositions spontaneously on to tape, not write them out on paper.

At six, Josef Erich Zawinul started to play the accordion in his native Austria, and studies in classical piano and composition at the Vienna Conservatory soon followed. His interest in jazz piano, initially influenced by George Shearing and Erroll Garner, led to jobs with Austrian saxophonist Hans Koller in 1952 and gigs with his own trio in France and Germany.

He emigrated to the United States in late 1958 after winning a scholarship to Berklee, yet after just one week in class, he left to join Maynard Ferguson's band for eight months, where Miles Davis first took notice of him. Following a brief stay with Slide Hampton, Zawinul became Dinah Washington's pianist from 1959 to 1961, and then spent a month with Harry "Sweets" Edison before Cannonball Adderley picked him to fill the piano chair in his Quintet. There Zawinul stayed and blossomed for nine years, contributing several compositions to the Adderley bandbook -- among them the major pop hit "Mercy, Mercy, Mercy," "Walk Tall" and "Country Preacher" -- and ultimately helping to steer the Adderley group into the electronic era.

While with Adderley, Zawinul evolved from a hard bop pianist to a soul-jazz performer heavily steeped in the blues, and ultimately a jazz-rock explorer on the electric piano. Toward the end of his Adderley gig (1969-1970), he was right in the thick of the new jazz-rock scene, recording several pioneering records with Miles Davis, contributing the title tune of Davis' In a Silent Way album.

After recording a self-titled solo album, Zawinul left Adderley to form Weather Report with Wayne Shorter and Czech bassist Miroslav Vitous in November 1970. Weather Report gave the increasingly self-confident Zawinul a platform to evolve even further as his interest in propulsive grooves and music from Africa and the Middle East ignited and developed. He gradually dropped the electric piano in favor of a series of ever-more-sophisticated synthesizers which he mastered to levels never thought possible by those who derided the instruments as sterile, unfeeling machines.

Weather Report eventually became a popular group that appealed to audiences beyond jazz and progressive rock, thanks in no small part to Zawinul's hit song "Birdland." When Zawinul and Shorter finally came to a parting of ways in 1985, Zawinul started to tour all by himself, surrounded by keyboards and rhythm machines, but resurfaced the following year with a short-lived extension of Weather Report called Weather Update (which did not leave any recordings). Weather Update quickly evolved into another group, the Zawinul Syndicate, which over the span of a decade has been tilting increasingly toward groove-oriented world music influences.

Zawinul has also shown renewed interest in his European roots, collaborating with fellow Viennese classical pianist Friedrich Gulda from 1987 to 1994, producing a full-blown classically-based symphony Stories of the Danube in 1993, and following the near-disastrous Malibu fires of 1994, moving from California to New York City in order to be closer to Europe.
In 2002 he released Faces & Places, his first studio album in several years and one that boasted an international roster of supporting musicians.

Though he continues to explore new musical paths at an age when most jazzers are long set in their ways, Zawinul's influence upon jazz has waned in recent years due to the jazz mainstream's retreat from electronics back to acoustic post-bop. But Zawinul's uplifting, still-invigorating later music may make him a prophet again if global music infiltrates the jazz world. - courtesy of allmusic.com


---

ZAWINUL ALBUMS
click to preview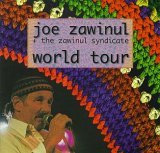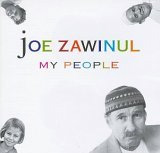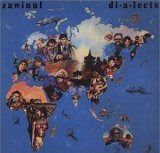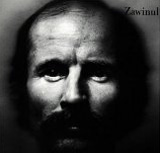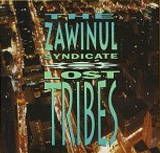 click here to see more...
---
WEATHER REPORT ALBUMS
click to preview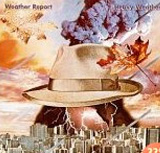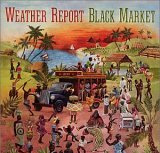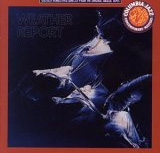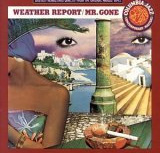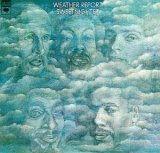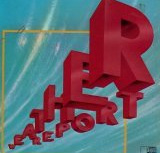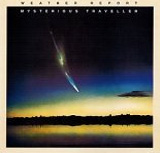 click here to see more...