UP & COMING ARTIST: STEVE TOPPING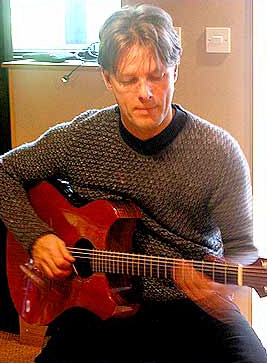 Steve Topping has recently completed two years of recording his latest musical masterpiece, Late Flower (which can be previewed in the column at the right). Steve is in the rare league of guitar innovators such as Allan Holdsworth and John McLaughlin. His tasteful and highly original approach to the guitar is indeed refreshing.

Check out these inspiring clips featuring Steve's compositional talents on the new Late Flower album:

Aigburth mp3

Strolling Boy mp3

Late Flower mp3

" ... this is an exciting and challenging time ... I just can't wait to play this stuff live! Heartfelt thanks to everyone that has taken an interest and sent messages of support. It's been a very long and winding path to Late Flower ... I never want this sort of delay in output again! Hope to see you out there ... " Steve Topping, May 2004.

Steve's 1998 release, Time and Distance, received rave reviews and Allan Holdsworth said:

"I love this record ... it's truly a breath of fresh air ... particularly in these times of a gazillion music schools, magazines and videos that tend to churn out musicians playing everything you've ever heard before ... again! Steve has a unique harmonic approach that is deep, emotional and exciting". Allan Holdsworth

Steve himself wrote the following for the Time and Distance liner notes:

"Musical truth is abstract - in its genesis, and in its experience. The engines of its meaning are not represented on its surface - the source of its renewal will not be found there - in style. Music that is arrived at by the appropriation of style cannot be real. The vast cultural legact exerts such centrifugal force that it tempts us to go shopping in a candy store of styles - but our engagement in pre-existing contexts is only legitimised when distilled - through the small voice inside. Music that is arrived at by the distillation of style cannot but be real. No matter how simple the technical means or manner of expression, it is only through this process that we can ever hope to convey our interior experience, with which, at its still centre, music is joined." Steve Topping

Here is what Jazzwise magazine had to say about Steve's "Time and Distance":

"Whoah! Just when the late-90's smooth jazz agenda looked set to smother any hope of a home-grown re-evaluation of jazz-rock's core, spirit and sonic thrust, out slips this self-funded corker from guitarist Steve Topping. Drawing on the sound and scope of the mighty trinity, Jimi Hendrix, John McLaughlin and Allan Holdsworth, Topping has evolved a stimulating fresh voice. Angular and biting hard on the one hand, as the rousing opener "Adrenalin" and a torrid interpretation of Mclaughlin's "The Life Divine" amply illustrate, yet deeply reflective and evocative on the other, with more than a hint of Bill Connors' largely unsung use of dynamics and space. Cut with the top drawer support from fellow UK innovators Gary Husband on drums and Wurlitzer piano, and bassist Paul Carmichael, this minor masterpiece deserves major consideration. To quote Mr. Holdsworth: 'This CD is truly a breath of fresh air'. Couldn't agree more."



In 1999, Steve was featured on Gary Husband's album, "From the Heart." A reviewer had this to say about the album: "This is one of the freshest CDs I've heard in years. Gary Husband's New Trio, augmented by such guests as Georgie Fame, Jack Bruce, Steve Topping and Coco the Dog (a.k.a Le Coco; don't ask), swings like mad through a set of originals and thoughtfully rearranged standards. This music is full of passion, energy, grace, poignancy and humor. Jack Bruce's vocal on Jobim's "Once I Loved" is heartbreaking. The album is beautifully recorded as well, with deep bass and sonorous drums. Highly recommended."

STEVE's BIO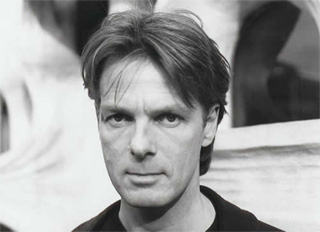 English guitarist Steve Topping grew up in Liverpool during the sixties. Born into a musical household he was playing guitar from the age of seven. He was already pushing against technical horizons when he started music college. Later on, composing became equally important to him...but the tough part was yet to come: finding himself and not being a follower. That early promise is now being fulfilled ... in a late flowering. (from his website at www.overdown.com)

Check out a great 2004 interview with Steve talking about his new "Late Flower" album with Souvik Dutta on the AbstractLogix.com website!!!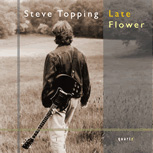 Late Flower
New Release by Quartz Music!

The long awaited and highly anticipated followup to "Time and Distance," from one of the most brilliant guitarists to emerge from Great Britain. Two years in the making, completely original instrumentals with Steve in a trio setting with none other than Jimmy Johnson on bass, and Gary Husband on drums! Comparisons to Allan Holdsworth have been made, however Steve clearly has his own unique sound. - Audiophile Imports

Steve Topping - Gtrs / Kbds
Jimmy Johnson - Basses
Frank Schaefer - Cello
Gary Husband - Drums

listen to mp3 previews:

Woody Chimer
The Lost Song
Aigburth
Game of Light
Strolling Boy
Jo
On My Hill
Late Flower


---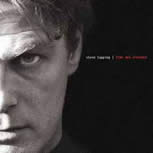 Time and Distance
Released in 1998
Soon to be re-released by
Steve's label, Quartz Music.

Steve Topping - Guitar
Paul Carmichael - Bass guitar
Mick Hutton - String bass
Gary Husband - Drums

listen to mp3 previews:

Adrenalin
Spock
Watercolour
Amongst
Time & Distance
Blueways
Renewal
Fossil
Life Divine


---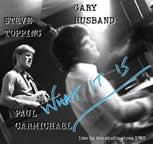 What It Is
Recorded in 1980

A Limited Edition archive release available exclusively through Audiophile Imports

Steve Topping - Guitar
Paul Carmichael - Bass guitar
Gary Husband - Drums

listen to mp3 previews:

Dynamo
Little Theatre
Tryst & Shout
What It Is
Heel Kicker
Fallow Land
The Train
Catch The Ball And Run
Aphorism

---

visit Steve's official website:
www.overdown.com

contact Steve:
info@overdown.com