FEROCIOUSLY FUNKY BASSIST WHO
WON INTERNATIONAL ACCLAIM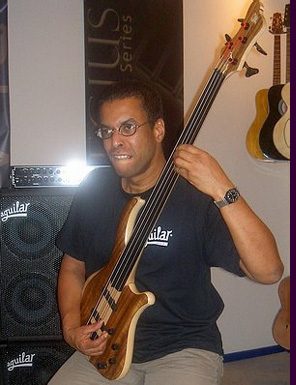 (Cleveland News-January 30, 2007)

Steve Logan, a Cleveland native and internationally known jazz bassist, made music with such artists as saxophonist David Sanborn, guitarist John Scofield and singer Aretha Franklin.

The 48-year-old jazz, pop and fusion specialist, who died Jan. 12 in Krakow, Poland, where he had lived since 2003, will be remembered at a local memorial service Wednesday. He died of complications from diabetes, according to his mother.

Logan played on such recordings as Jarek Smietana's "A Story of Polish Jazz" and WalkAway's "Zariba." He recently completed work on a soon-to-be-released recording with Funk de Nite The Steve Logan Band performed and recorded throughout Europe. Logan delighted au diences when he sang "Dancin' Chickens" in the voice of the character "Tweeter Banks."

He began his career playing electric bass with the Cleveland-based group Wildfire at age 16. Four years later, he sought a larger stage. Like the guitarist in the song "On Broadway," the John F. Kennedy High School graduate went to New York City to make his mark in the music industry.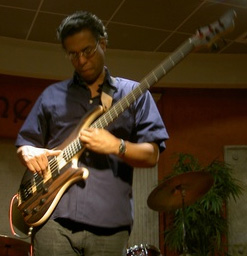 Logan played in New York, across the United States and in Europe. He lived in Italy before moving to Poland.

In 1994, Logan recruited well-known American artists, including the Five Blind Boys and Hiram Bullock, to perform at the Treviso Rockin' Blues Festival in Italy.
His tours with Sanborn and Scofield included performances in Cleveland in the 1980s and 1990s. Reviewers at various newspapers praised Logan's electric bass playing as ferociously funky and unpredictable.

by Alana Baranick
Plain Dealer Reporter
A Cleveland Newspaper

STEVE LOGAN'S CUSTOM 4 & 5 STRING BASS GUITARS: SLOGAN
by Mayones Basses & Guitars






Slogan combines two other Mayones bass models - Patriot & Comodous - into one instrument. The idea of a Slogan bass comes from Steve Logan, a US jazz bassist, who contributed to the shape and the name of this model. Steve Logan performed and recorded with some of the best-known jazz artists, e.g. David Sanborn, John Scofield or Aretha Franklin. Steve himself plays 2 'Slogans' exclusively: the Fretted-5 and the Fretless-4 Both his guitars are powered by Bartolini pickups & Aguilar preamp.