JANE GETTER - "three" (October 2012)



Now Available on CD at Amazon.com, Abstract Logix, Alternity Records and Everywhere Digitally!!








"I listened to Jane's CD and thought it was really cool, and actually very progressive material! She's got something special going on."

- Steven Wilson (of Porcupine Tree)
Visit Jane's Website at janegetter.com

---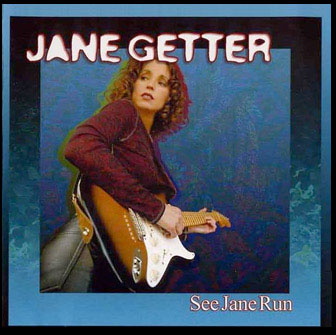 Jane Getter's
second album "see jane run" is a magnificent follow up to her highly acclaimed, debut cd, "Jane." In reference to the the new album, Jane says, "This CD continues to develop the Jazz-Rock-African direction I started on my first CD, JANE. I also wrote some R&B and funk vocal tunes that I'm very happy with."

You are going to love this music! Jane really soars with her guitar and every song reveals more and more of her incredible depth as a composer, arranger, and musician. Jane is joined again by Adam Holzman on keyboards, James Genus on bass, Keith Carlock on drums, Rodney Holmes on drums, Thulani on vocals, Abdou M'Boup on percussion, and Jerry Barnes on background vocals.

Check out these mp3 samples from "see jane run":

1. The_Loop
2. Something Better
3. Leap_Year
4. Did I Ever Tell You
5. Lost_&_Found
6. Nebula
7. Know You
8. Red_Earth
9. Coda
10. The Loop - full length version

Click here to order "see jane run"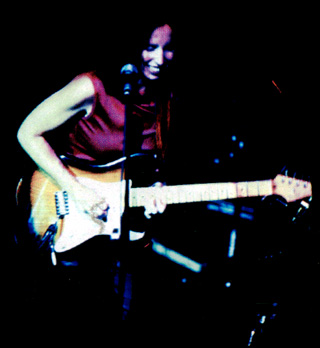 WHO IS JANE?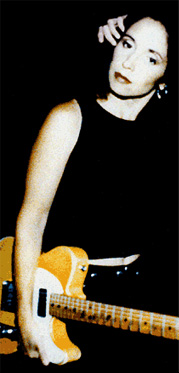 Jane Getter

is one of the most exciting and innovative guitarist/composers on the scene today. Early in her career she toured with legendary jazz/blues organist Jack McDuff, which provided invaluable training ground as did stints with Joe Lovano, Richie Beirach, Kenny Barron, Jack Wilkins, and many others.

Her composing talents received attention when she won the ASCAP Gershwin Award for Music for Theater or Dance in the mid 90's. She then teamed up with writing partner Lenny White (drummer from Return To Forever). They co-wrote Urbanator's smooth jazz hit "Hopscotch", along with other compositions which were recorded on White's CD's Present Tense and Acoustic Masters. At this time she recorded and toured with Michal Urbaniak's band Urbanator featuring Kenny Garrett, Tom Browne and Lenny White. She then received widespread exposure playing in the Saturday Night Live Band.

Jane has appeared in Guitar Player Magazine various times with her featured interview in 2006 and with her instructional articles in the "Sessions" section. They have described her as "the fieriest fretboarding female ever to strap on a Stratocaster". Her current band consists of a stellar crew of New York's finest - James Genus, Adam Holzman, and Anton Fig. They can be seen playing in the the New York City area and touring the U.S and recently opened for guitar legend Allan Holdsworth in NYC's BB Kings Blues Club.

Her debut CD on Lipstick Records titled Jane, received worldwide critical acclaim. Her 2nd CD titled See Jane Run was released in 2006 on Alternity Records, the home of Allan Holdsworth. In 2009 a special guitar duet project entitled "Secret Code" with guitarist Bruce Arnold was released on "Muse Eek" .

Jane continues to perform, tour and record with many other great artists such as The Roots, The Jam, Jaimoe (Allman Brothers Band drummer), Ursala Dudziak, Kenny Garrett, Matt Garrison, Richard Bona, and more. Recently she has been performing with her trio in festivals in Europe and the States, including Warsaw's Guitar City and the San Francisco Jazz Festival.

With Jane's new musical direction into the progressive rock/jazz idiom, comes her new album "three" just released on Digital Nations and Alternity Records.

Jane uses Fender Guitars and amps and Seymour Duncan Pickups.

Fan mail or inquiries may be sent to Jane via E-mail.

.


---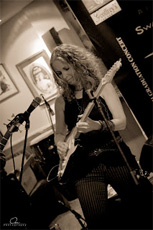 First Lady of Rock Fusion

Read the interview with
Jane talking about music and her latest album: "'three' enters new musical territory for me. It's a bit of a departure from my previous jazz-fusion style into more of a prog/rock-fusion style. I'm also singing lead on this record for the first time."


Check out Jane talking about her first album in JAZZIZ Magazine -
click here to read interview...



see more

REVIEW OF "JANE"

Getter's phenomenal solo debut pulls up the deep roots of jazz and jazz fusion, shakes off the dust and dirt, to mine and shine the gold within. From her fingertips sails majesty our way as Hendrix's "golden-winged ship" of inner vision. She adds the fresh soil and liquid pleasure of her own stylings and re-plants a new tree of earthly fused jazz delights for all to feast upon.

I will unequivocally assert that this has got to be one of the top ten jazz guitar releases of 1998. Jane may be the solid number one '98 release by a female jazz guitarist. I've not heard such finely honed jazz standards style, fusion ferocity, and solid grooves since Mike Stern exploded onto the scene. You will hear Stern Tele-thunder tone, Jeff Beck fusion gut-punch, Hendrixian blues rock sensitivities, George Benson scat-sync- overlayed riffs, and many more surprises this lady can call all her own.

Jane Getter has redefined cool breeze jazz and way phat grooves on this release. Take all this talented flair and augment it with Weather Report/ Steps Ahead bassist, Victor Bailey, Zawinul Syndicate/ Wayne Shorter drummer, Rodney Holmes, Miles Davis Group/ Grover Washington, Jr. keys wizard-producer Adam Holzman and this baby kicks! This Getter "back-up band" can be all over the place doing a funky smooth groove ballad while Getter rips the aluminum siding off the wood shed with pure finesse.

Like a good jazz mother she then rocks you to sleep with her tender heartbeat tones and exquisitely mellow side. Jane, you be da lady. My hat's off to ya!

Highly recommended.
~ John W. Patterson

visit Jane's official website:
www.janegetter.com

contact Jane:
adamhjaneg@aol.com