BRUFORD NEARLY 30 YEARS AGO (see videos below)
with Allan Holdsworth, Jeff Berlin, & Dave Stewart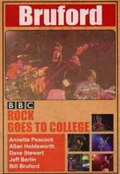 "Rock Goes To College" DVD - Filmed in 1979 at Oxford Polytechnic in the UK, the concert features the full group playing material from the band's first two CDs, "Feels Good To Me", and "One of a Kind", and includes the stand-out track Beelzebub and the show-stopping Adios a La Pasada. The packaging includes a 12-page booklet archiving critical reaction at the time. All members of this group have gone on to distinguished careers in their own right, and together with the scarcity value of the band's performances, this DVD will be much anticipated by Bill Bruford's extensive fan base. Other Information: Track Listing 1. Sample and Hold 2. Beelzebub 3. The Sahara of Snow (Part One) 4. The Sahara of Snow (Part Two) 5. Forever Until Sunday 6. Back to the Beginning 7. Adios a la Pasada (Goodbye to the Past) 8. 5G. Purchase at billbruford.com

BEELZEBUB


SAHARA OF SNOW


FOREVER UNTIL SUNDAY


SAMPLE & HOLD


5G - JEFF BERLIN BASS SOLO


DVD REVIEW from All About Jazz by John Kelman
Bruford - Rock Goes to College
Winterfold Records
2006

Charting the career of drummer Bill Bruford, one has to sometimes wonder exactly what was he thnking? On the cusp of major commercial success on the heels of Close to the Edge (Atlantic, 1972), Bruford chose to leave Yes to join King Crimson—a band with no small cachet, but at the same time never possessing the commercial appeal of Yes in terms of record sales. But Bruford—a rock drummer and an art rock drummer at that, but one who had deep roots in jazz from the very beginning—wanted to pursue improvisational opportunities. As his career has born out ever since, the majority of his decisions have been made in pursuit of the opportunity to work with others who might complement his desire to grow—not only as a player but as a writer and bandleader. Rock Goes to College is an all-too-brief but totally riveting performance by his first band as a leader—a band that demonstrated in no uncertain terms that Bruford was far more than "just" a drummer.

When Crimson founder/guitarist Robert Fripp "permanently" dissolved the band in 1974, in what would turn out to be but the first of many such dissolutions, Bruford found himself out of a steady job for the first time in six years. In a move that would be completely in keeping with his approach to growth, he began working with groups like National Health, which featured keyboardist Dave Stewart. Stewart, who had previously worked with Canterbury bands Egg and the influential Hatfield and the North, has never received the recognition he deserves, despite some pop hits in the 1980s with his wife, singer Barbara Gaskin. But in 1975 the hook-up with Stewart was the beginning of a relationship that, along with Bruford's growing expertise on tuned percussion, would lead to the formation of the drummer's first band, simply called Bruford.

Bruford's first release, Feels Good to Me (EG, 1977, reissued Winterfold, 2005) came as a shock, even to those who'd been following the drummer's career closely. Bruford's core group featured Stewart, along already-becoming-iconic guitarist Allan Holdsworth and bassist Jeff Berlin, another too-often overlooked player. It was a muscular band, as capable of navigating Bruford's mind-bending rhythmic twists and turns as they were a surprisingly sophisticated harmonic conception that came from the collaborative writing efforts of Bruford and Stewart. Bruford's debut also featured the sultry-voiced Annette Peacock, mixed so far up front that, despite her relatively brief appearance, her contribution became an inescapable fundamental of the release.

The group would go on to record one more record (without Peacock), One of a Kind (EG, 1979, reissued Winterfold, 2005) before Holdsworth left, to be replaced by the somewhat clone-like and aptly-nicknamed "The Unknown" John Clarke. That group would tour extensively for a year, and release two more albums—the Live The Bruford Tapes (EG, 1979, reissued Winterfold, 2005) and Gradually Going Tornado (EG, 1980, reissued Winterfold, 2005)—before disbanding as Bruford would again join Robert Fripp in a new 1980s incarnation of King Crimson.

Rock Goes to College rescues a March 7, 1979 performance for the BBC television show "Rock Goes to College" from the archives, and represents one of only two performances to feature the original band with Holdsworth. The DVD release is an historic significant event for fans of this band or one or more of the musicians involved. It also features a guest appearance by Annette Peacock for two songs…but more about that later.

For its time the recording quality is more than acceptable. Berlin's lithe bass lines thunder, Stewart's wall of sound is big as life, Holdsworth's blinding solos are clear as day and Bruford's sound as snappy as always. While there was considerable structure behind songs like the knotty-themed "Beelzebub," there was also plenty of room for Stewart and Holdsworth to become more explorative. Bucking tradition, Bruford eschews exhibitionist solos altogether and, with the exception of the intro to "5G" where Berlin's slapping is a clear antecedent for players like Level 42's Mark King, there aren't many bass solos to speak of. But as form-based as Bruford and Stewart's music is, there's also plenty of interaction, with Berlin a strong melodic voice at times, at others an overall strong contrapuntal player who, like Bruford, went beyond even the more liberal constraints of art rock.

27 years later it's hard to really know what this music is. It's fusion, but without the sheer excess that was being heard by bands across the ocean. It's certainly progressive by definition but, despite stellar playing, again without the expected bombast largely due to everyone's desire to create a collective that spoke in terms greater than their individual parts. If anything, Bruford came about at a time when it was still possible to fuse diverse influences in ways that didn't need to be defined, nor should it be any more imperative to try to pigeon-hole the group now.

The 42-minute set is culled in equal parts from One of a Kind and Feels Good to Me. The way the group layers lines on the complex "Sample and Hold" is all the more amazing to hear live: one misstep and the entire piece could collapse like a house of cards. Guitarists will not want to miss the chance to watch Holdsworth play. At this time he was at one of his creative peaks, and just to see how, with his legato style, his right hand rarely even touched the guitar is a lesson in itself. Stewart's ability to create a myriad of sounds at a time when digital synthesis and midi had yet to be conceived is as astounding as the keyboard legerdemain of Weather Report's Joe Zawinul. These were, after all, the days when changing tone was far more complicated than simply bringing up a pre-programmed patch.

Despite the more prominent personalities of those in front of him, Bruford was still clearly the heart of the band, and for music exacting careful attention to detail on each individual's part, there's considerable communication going on between everyone. One of the highlights of the show is "Forever Until Sunday," which begins as a ballad but kicks into gear for the second half, featuring one of Holdsworth's most reckless solos of the set. Seeing Holdsworth then—before he became the overly analytical man he is today despite his rarely paralleled innovations—is more than enough to recommend watching this performance.

While the idea of seeing the group perform two tracks from Feels Good to Me with Annette Peacock is enticing, sadly she's the only weak spot in the performance. Peacock's more theatrical demeanour seems at odds with those surrounding her, who are clearly just going for it in an unassuming, direct and honest way. Dramatically throwing off the jacket wrapped around her shoulders at the beginning of the set, her visual presence, though striking, would be far better if her singing approached the strength of those around her. Unfortunately, her pitch is hit-and-miss, and while it's great to hear the songs played because once the band takes over all can be forgiven, it's still the lone blemish in a performance that, otherwise, is stunning from start to finish.


L:R Allan Holdsworth, Dave Stewart, Annette Peacock, Bill Bruford, Jeff Berlin

Formatted, as was the convention of the time, for a 4:3 aspect ration, a mono soundtrack and no bonus features, the DVD may provoke feelings on the part of some viewers that Bruford could have done something more to flesh it out . But at the end of the day the performance stands on its own, and while one wishes, at the end of the forty minutes, that there could be more to come, Rock Goes to College remains completely satisfying. All too often bands are less equitable than they'd like to be, with one or two members standing out. This was a band where the instrumentalists were on equal footing, each an innovator in his own right. The opportunity to experience this band in performance is something for which Bill Bruford deserves more than a few thanks.

Everyone has, of course, moved on since then. Bruford has evolved into a looser and more interactive player with his all-acoustic Earthworks band. Berlin continues to put out records but never achieves the historical credit that other bassists who emerged at the same time like Jaco Pastorius and Stanley Clarke received. Stewart has almost disappeared off the face of the planet, despite being approached by members of Hatfield and the North to reconvene. Holdsworth continues to evolve his very personal approach. But at this point in time in March, 1979, the since scattered members came together to create a small but significant body of work that remains relevant to this day and, with Bruford's remastered reissue of the band's catalogue and now this DVD, music that has clearly weathered the test of time.