JACK DEJOHNETTE

"When I play, I go into an altered state, a different headspace. I plug into my higher self, into the cosmic library of ideas." JD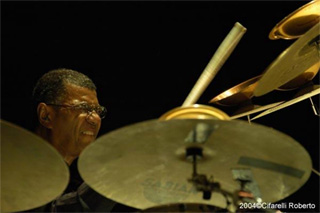 (see more photos by Roberto Cifarelli at allaboutjazz.com)

FROM THE HEARTS OF THE MASTERS - New CD
(Release Date: April 2005)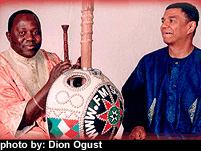 Jack DeJohnette is considered one of the world's greatest living jazz drummers and an improvisational genius on the piano. Foday Musa Suso is a master of the Kora (21 string African Harp) who has collaborated with musicians such as Herbie Hancock, Bill Laswell, the Kronos quartet, Medeski, Martin & Wood, and Phillip Glass.

Jack and Foday have been playing together since 2002 when they first recorded "From the Hearts of the Masters" at Jack's studio in Woodstock, NY. The album will officially see the light of day with its release very soon in 2005. In the meantime, the two Masters have been performing around the world and LinkTV has been running the 60 minute Documentary of their 1st live show at the Montreal Jazz festival in 2003.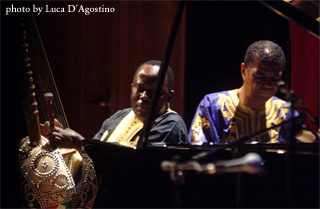 (see more photos by Luca D'Agostino at controtempo.org)

"From the Hearts of the Masters" is a documentary film that is peppered with commentary by both musicians, but the main focus is on the music, and there's plenty of it... from groove-based, trance inducing pieces to passages of inspired improvisation. Jack's elegant touch is a perfect match with Foday's harp, while his rhythmic dynamism pushes the Kora Master to new and uncharted territories. When these two virtuosos come together to play music, it's a very special event indeed. Check LinkTV listings for showtimes. LinkTV can be seen if you have DirectTV on channel 375 or channel 9410 if you are on the DishNetwork.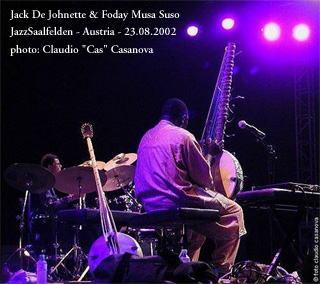 (see more photos by Claudio "Cas" Casanova at allaboutjazz.com)

In the upper right column, you can see a short video clip of their 2004 concert in Rio. You can also preview some mp3 samples below. Check Jack's site for dates and details about the CD release at www.jackdejohnette.com.

"From the Hearts of the Masters" mp3 previews


"Perfection is how it all comes out when you play things you didn't intend to play. Miles explained that he would be going for three or four different ideas, and if he could play at least one of them, he would be happy. It's that idea of going for something. When you get that flow, the ideas just come out." (see full interview with Jack at ModernDrummer.com)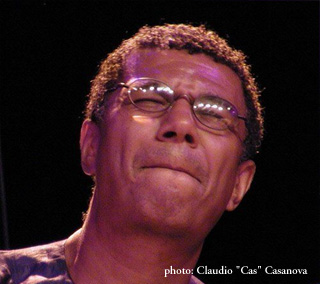 (see more photos by Claudio "Cas" Casanova at allaboutjazz.com)

Miles Davis on Jack DeJohnette:
"The sound of my music was changing as fast as I was changing musicians, but I was still looking for the combination that could give me the sound I wanted. Jack DeJohnette gave me a certain deep groove that I just loved to play over, (...) Jack DeJohnette left the group late in 1971, around the same time Keith Jarrett left. I wanted the drummer to play certain funk rhythms, a role just like everybody else in group had. (...) Now, Jack could play drums like a motherfucker in groove; he could really do that shit, but he also wanted to do other things, play a little freer, be a leader, do things his own way, so he left. (...) In the band with Keith Jarrett and Jack DeJohnette, Keith and Jack dictated where the sound went and what they played, the rhythms they laid down. They altered the music and then the music just pushed itself out into something else. Can't anybody else play music like that because thay they didn't have Keith and Jack." - excerpt from "Autobiography," Miles Davis with Quincy Troupe - thanks to Piotr Marek, Jr

visit Jack's official website:
www.jackdejohnette.com


new release on ECM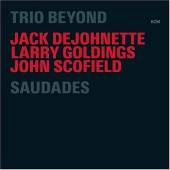 Jack DeJohnette initiated the Trio Beyond project in 2004 to pay tribute to the late Tony Williams' Lifetime -- with the late Larry Young on organ and guitarist John McLaughlin, all three were Miles alumni -- a band that, along with the Miles Davis band, spearheaded the jazz-rock fusion era. DeJohnette replaced Williams in the Davis group, and John Scofield is also a Miles alumnus; Larry Goldings had been approached by Williams in 1997 to put together an organ trio with a similar concept to Lifetime; Williams passed away shortly thereafter. The results on this double-disc album, Saudades, are explosive, dynamic, and utterly compelling.


Talking Drummers Video


click here to preview the video
(requires Windows Media Player)

This rare and extraordinary video takes you behind the scenes and into the recording studio as two world-class musicians improvise an album of percussion-based works. They are seen performing on congas, djembes, shakers, trap set, log drums, ocarina and keyboards. Includes intimate conversations in which Jack and Don discuss their illustrious history, their craft, musical influences, spirituality and other topics related to their artistry. Includes an absolutely mind-blowing jam with Don Alias wailing on traps and Jack improvising swirling melodies on keyboards. Available through Homespun Tapes; or call 800-33-TAPES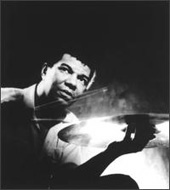 JACK's BIO

Born: Aug 9, 1942 in Chicago, IL.
Genres: Jazz.
Styles: Avant-Garde Jazz, Post-Bop, Fusion, Jazz.
Instruments: Leader, Keyboards, Drums

At his best, Jack DeJohnette is one of the most consistently inventive jazz percussionists extant. DeJohnette's style is wide-ranging, yet, while capable of playing convincingly in any modern idiom, he always maintains a well-defined voice. DeJohnette has a remarkably fluid relationship to pulse. His time is excellent; even as he pushes, pulls and generally obscures the beat beyond recognition, a powerful sense of swing is ever-present. His tonal palette is huge as well; no drummer pays closer attention to the sounds that come out of his kit than DeJohnette. He possesses a comprehensive musicality rare among jazz drummers.

That's perhaps explained by the fact that, before he played the drums, DeJohnette was a pianist. From the age of four, he studied classical piano. As a teenager he became interested in blues, popular music, and jazz; Ahmad Jamal was an early influence. In his late teens, DeJohnette began playing drums, which soon became his primary instrument. In the early '60s occurred the most significant event of his young professional life - an opportunity to play with John Coltrane. In the mid-'60s, DeJohnette became involved with the Chicago-based Association for the Advancement of Creative Musicians. He moved to New York in 1966, where he played again with Coltrane, and also with Jackie McLean. His big break came as a member of the very popular Charles Lloyd Quartet from 1966-68. The drummer's first record as a leader was 1968's The DeJohnette Complex. In 1969, DeJohnette replaced Tony Williams in Miles Davis' band; later that year, he played on the trumpeter's seminal jazz-rock recording Bitches Brew. DeJohnette left Davis in 1972, and began working more frequently as a leader. In the '70s and '80s, DeJohnette became something like a house drummer for ECM, recording both as leader and sideman with such label mainstays as Jan Garbarek, Kenny Wheeler, and Pat Metheny.

DeJohnette's first band was Compost; his later, more successful bands were Directions and Special Edition. The eclectic, avant-fusion Directions was originally comprised of the bassist Mike Richmond, guitarist John Abercrombie, and saxophonist Alex Foster. In a subsequent incarnation - called, appropriately, New Directions - bassist Eddie Gomez replaced Richmond and trumpeter Lester Bowie replaced Foster. From the mid-'70s, Directions recorded several albums in its twin guises for ECM. Beginning in 1979, DeJohnette also led Special Edition, a more straightforwardly swinging unit that featured saxophonists David Murray and Arthur Blythe. For a time, both groups existed simultaneously; Special Edition would eventually become the drummer's performance medium of choice. The band began life as an acoustic free-jazz ensemble, featuring the drummer's esoteric takes on the mainstream. It evolved into something quite different, as DeJohnette's conception changed into something considerably more commercial; with the addition of electric guitars and keyboards, DeJohnette began playing what is essentially a very loud, backbeat oriented - though sophisticated - instrumental pop music. To be fair, DeJohnette's fusion efforts are miles ahead of most others'. His abilities as a groove-centered drummer are considerable, but one misses the subtle colorations of his acoustic work. That side of DeJohnette is shown to good effect in his work with Keith Jarrett's Standards trio, and in his occasional meetings with Abercrombie and Dave Holland in the Gateway trio. - courtesy of allmusicguide.com