DRUMMER/COMPOSER: ASAF SIRKIS



Sirkis/Bialas International Quartet,
COME TO ME
by Asaf Sirkis, Sylwia Bialas

Asaf's newest album - 'Come To Me' - is an inspiring musical partnership with Polish vocalist Silwia Bialas that includes Frank Harrison on piano/keyboards and Patrick Bettison on bass and harmonica. The album was launched at the London Jazz Festival on November 21, 2014. The quartet has been touring the UK and will continue performing throughout 2015.

"COME TO ME" IS A MASTERPIECE!
Sirkis/Bialas International Quartet
Launch Date: November 21, 2014
Five Stars***** - Reviewed by John Pritchard

COME TO ME

Under the wing of darkness
The rise of unity
Breaths and thoughts
In shy proximity.

Knot of bodies
Heat of the lips
The sweetest frenzy,
Dialogue of souls
Seized two beings
So thirsty for love.

In the abyss of pastels
Of blues and whites
A planet is born
Of blossoming hope.

These opening lyrics to the title track, Come To Me, epitomize the love and hauntingly optimistic sound of this phenomenally talented quartet. The sheer beauty and grace of this uplifting collection of original music truly reflects the ever expanding musical genius of composer/drummer Asaf Sirkis, et all.

Polish singer Sylwia Bialas composed five of the 10 pieces on this project and is a true musical partner with Asaf. And when it comes to her singing, she is not just another great jazz vocalist improvising her way through a cool sounding acoustic album. Her voice shimmers, sparkles and whispers like a misty morning sun shining through to warm our heart and soul. I found myself soaring on each and every note and was deeply moved by her soulfulness. Silwia's creativity also extends beyond the music and lyrics to the photos and images you can find on the cover and in the album's interior booklet.

Not unlike Asaf's previous albums, Come To Me, is a true tour-de-force of musicianship and innovation. The piano and keyboard improvisations of Frank Harrison are super elegant and in perfect balance with the atmospheric nature of each composition. His exquisite solo in the middle of track four, Ismael, is particularly gorgeous as is his masterful playing on track five, A Hymn, and track seven, The One.

Perhaps the most unexpected surprise of the album is the masterful harmonica playing by bassist Patrick Bettison. The harmonica is such a rarity in jazz music and here it really shines through on track 8, Magnolia. The harmonica gives the album an ethereal quality that is most unexpected. In respect to Patrick's basswork, it is refreshingly fluid and flawless. Check out his solo on track two, Dreams Dreams, track six, Mandragora, and track ten, Orgon.

For the drummers who deeply admire Asaf's masterful and uniquely tasteful approach to the drumset, you won't be disappointed with his rhythmically inventive and inspiring playing throughout... especially his super melodic solo on the third track, Vortex, and his incredibly soft, beautiful brushwork on track nine, Orbs.

"Come To Me" is yet another Asaf Sirkis masterpiece. It not only delivers an extraordinary listening experience, but I feel genuinely enriched and deeply satisfied after hearing the music, especially with Silwia's voice. This is what music is all about: colorful, infinitely creative, and full of heartfelt, emotional intensity. Each musician is such a talent unto themselves that when playing together you cannot help but feel completely transported to a better place while you listen.

One last note of appreciation goes out to Andrew Tulloch who mixed and mastered the tracks to produce the high quality clean and pristine sound of the entire album. Hearing this music on a great sound system is mandatory. You will appreciate every second of this luscious and inspirational release by Asaf Sirkis and Silwia Bialas all the more.
"Come To Me" is truly magnificent! …a musical experience without peer! Bravo Asaf and Sylwia!

Five stars! - John Pritchard

The album is available on Asaf's website: www.asafsirkis.co.uk
and on band camp: asafsirkis.bandcamp.com



BUY "COME TO ME" NOW!

---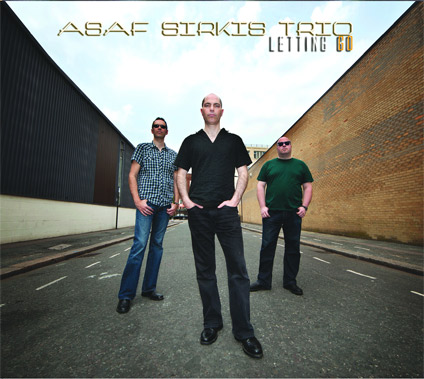 Asaf's Trio new album - 'Letting Go' - featuring Tassos Spiliotopoulos on guitar, Yaron Stavi on Bass and Asaf on drums is now ready to be launched. The album will be officially released on September 23rd, 2010. The trio will be touring the UK and Europe throughout the Autumn and early 2011.

2010 Release: "LETTING GO"
Asaf Sirkis Trio
Release Date: September 23, 2010
Five Stars***** - Reviewed by John Pritchard

The adventurous spirit of composer/drummer Asaf Sirkis truly flows throughout this amazing album of phenomenal music. After playing together for the past three years, this mighty trio of musicians are definitely reaching new heights of inspiration and genius. Every single track contains dynamic and harmonic subtleties that evoke a refined sensibility of purity and soulfulness. I simply love this music.

In addition to the masterful drumming by Asaf, the extremely tasty performances put forward by guitarist Tasso Spiliotopoulos and bassist Yaron Stavi exceed all expectations. Each player complements the other beautifully and the rich addition of Patrick Bettison on Harmonica produces even greater soul on tracks 3 and 6.

"Letting Go" is a perfect title for this masterpiece. Each musician "lets go" of their ego and lets their heart do the playing. Letting go is also the method behind the improvisational creativity and freedom achieved by the entire band. This is authentic music at its very best.

"Letting Go" presents an extraordinary experience that is not only exciting and graceful, but also powerful and elegant. It is an album that is full of tremendous energy and very, very alive! In my humble musical opinion, "Letting Go" is without question the best album of the year. Five stars! - John Pritchard



LETTING GO (click to listen in the player below) BUY IT NOW!


This text will be replaced by the flash music player.


All compositions and arrangements by Asaf Sirkis.
Produced by Asaf Sirkis for Stonedbird Productions.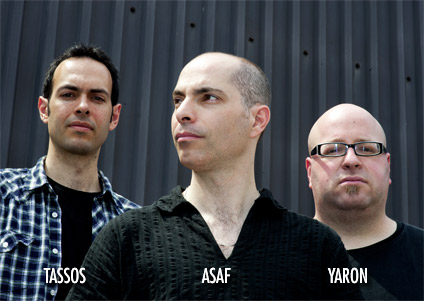 ---

..."Sirkis is simply the most sensitive of percussionists"
Chris Parker, January 2009

Asaf was featured in the August 2009 issue of 'Drummer' magazine, as well as, the October issue of "Cadence" magazine. You can see Asaf's full list of Gigs for 2009 & 2010 here.

Asaf is currently on a world tour with Tim Garland's "Lighthouse Trio" which is featuring their latest album, "Libra."




Here is a great review of the Trio in a recent article from "All About Jazz." Check out Asaf's one-of-a-kind, eclectic/hybrid frame drum/bass Udu/percussively driven drumkit in the video below (around 6:20 minutes) playing with "The Lighthouse Trio." Asaf is also now endorsing Vic Firth Sticks, Remo drum heads and Istanbul Agop cymbals.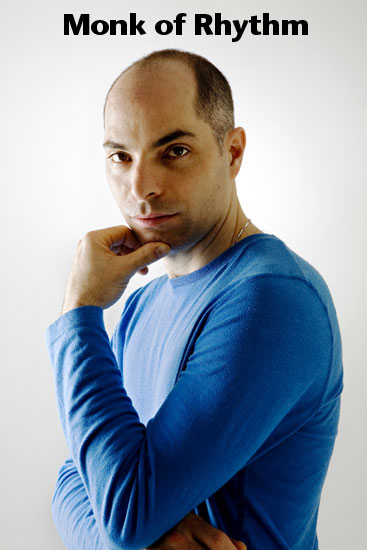 "For me, music begins where ideas finish."
Asaf Sirkis

2008 Release: "THE MONK "
Asaf Sirkis Trio
Release Date: September 14
***** Five Stars - Reviewed by John Pritchard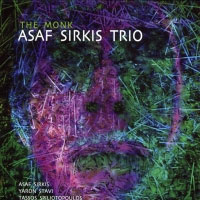 With the zest and zeal of a thunder and lightning storm, Asaf Sirkis takes his new electric trio into blissful states of improvisational glory... and all amidst a multitude of subtle musical delights that can only be described as "pure joy." THE MONK is simply Asaf's best recording to date and his drumming is just phenomenal... every beat... every phrase... every single second!

For this album, Asaf has assembled a truly outstanding group of talented musicians that features Tassos Spiliotopoulos on guitar and Yaron Stavi on bass with the amazing Gary Husband adding keyboards to several tracks.

As a composer, Asaf has branched way out from his gothic jazz journeys with the "Inner Noise," yet still manages to push the jazz-rock envelope into very fresh territory. As any great monk learns from his Masters, Asaf has fused the multi-directional influences of Tony Williams and Jack DeJohnette with the adventurous song writing styles of Allan Holdsworth and avant garde composer, Erik Satie.

The overall mix of tunes on the CD runs the entire spectrum from harmonically gentle to brash creativity. Lightning does indeed strike numerous times throughout the album, but it is never overpowering... there is a calm and confident, almost illuminating attitude that is quite refreshing in comparison to Asaf's previous work.

The guitar work of Tassos Spiliotopoulos is gorgeously sparse and minimalistic on the title track, "The Monk" and "The Journey Home", yet can jump into hard rockin jazz genius at the drop of a hat on tunes like "Without A Story" and the very tasty "Dream". Check out Tassos' site at MySpace.com

On the bass, Yaron Stavi, holds down heavy hanging notes on "End of the Circle" and gets super melodic on "Stoned Bird", "The Monk", and "The Journey Home." Like the patience of a saint, Yaron, delivers a solid foundation for the music to build and grow upon. Check out Yaron's site at MySpace.

Not to be missed is the highly spirited fifth track, "Alone", which features soloing from the entire band, ending with an especially tasty bit of drumming between Asaf and guest percussionist, Adriano Adewale.

All in all, THE MONK delivers beyond expectations. It is an album by an ingenious composer and drummer who carries the listener into new and exciting musical heights! It's definitely not for the meek. This CD has balls, yet it is also very quiet and thought provoking. It's bold music coming from a higher plane and from a drummers perspective, it is a major slice of heaven.

Thanks Asaf, you have learned well from your Masters and are definitely walking the path of an inspired Monk of Rhythm!

Highly recommended with 5 stars.

PREVIEW "THE MONK "
60 second mp3s below:
1. Stoned Bird (9:00)
2. The Monk (10:34)
3. The Bridge (1:47)
4. Without A Story (5:37)
5. Alone (7:10)
6. End Of The Circle (5:52)
7. Dream (6:53)
8. The Journey Home (6:27)

All compositions by Asaf Sirkis, except "The Bridge" by Gary Husband. Produced by Asaf Sirkis for Sam Productions.

Check out Asaf's website at www.asafsirkis.co.uk

Below are a couple YouTube clips of the trio playing in London at the Romanian Restaurant:





---
2008 Tour with Larry Coryell Trio




Asaf has been performing with the Larry Coryell trio in 2008 featuring Larry Coryell on guitar, Jeff Berlin on bass, and Asaf on drums. Gig details on Asaf's website: www.asafsirkis.co.uk
---
Live Gig with Mike Outram & Kit Downes
---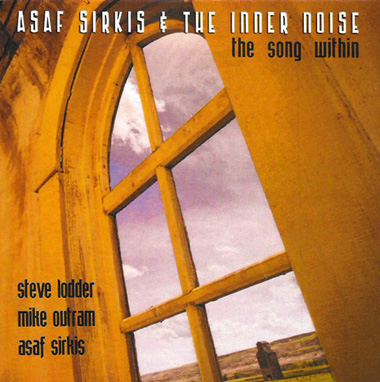 ..."fueled fusion fun of the best kind, delivered without pretension and bursting with energy."
Peter Marsh, BBC Magazine

2007 Release: "THE SONG WITHIN"
Asaf Sirkis & The Inner Noise
Release Date: May 22
***** Five Stars - Reviewed by John Pritchard

The most compelling part of this excellent new album by Asaf Sirkis is the wide spectrum of sound, creative rhythm and inventive soloing present on every single track. Nothing rushed about this music. It grows and glows within your ears and I was definitely transported to a better place by this exceptional instrumental group playing their one-of-a-kind genre called "gothic jazz".

From a composer's perspective, this is Asaf and the Inner Noise at their very best! Clean, clear and free with lots of imagination. They have left their darker, more ominous roots behind and entered an entirely new area of their own creation that is very fresh, highly adventurous and sonicly optimistic. Asaf's drumming is a pure joy. Effortless technique guided by soulful intuition. High virtuosity with every on and off beat accent leading the way for soaring solos by Steve Lodder on church organ and Mike Outram on guitar. Simply exceptional music that gets better and better with each listen. Highly recommended!

PREVIEW "THE SONG WITHIN"
60 second mp3s below:
1. The Song Within (7:14)
2. Nothingness First Part 1, Nothingness (7:25)
3. When You Ask Why (9:07)
4. Nothingness First Part 2, Love (2:53)
5. Miniature (5:48)
6. Hymn (7:40)
7. Theme for Gary (4:18) dedicated to Gary Husband
8. The Shadow (5:29)
9. Sweet Song (1:56)

All compositions by Asaf Sirkis.
Produced by Asaf Sirkis for Sam Productions.

James Griffiths has this to say about the Inner Noise live on stage:

"Audiences have been accustomed to bands experimenting with new sounds and pushing back the boundaries of contemporary music, but this trio has certainly come up with something different... Propelling the two front liners was the explosive percussion by leader Asaf, building the tension with a whole plethora of omni-directional polyrhythms with great skill."

ASAF SIRKIS: INNER THINKING ON FILM
(watch below)

Asaf is interviewed by filmmaker Rowena Jeffrey-Jones for this very thoughtful short film that features his 'Inner Noise' band at Stoke Newington Church, London 2006 (Steve Lodder on Church Organ, Tassos Spiliotopoulos on Guitar and Asaf on Drums).

A UNIQUE "SOUND ART" EXPERIENCE... THE EXPERIMENTAL SIDE OF ASAF
(watch below)
Recorded in Singapore, by Asaf Sirkis and Gilad Atzmon and Simon Fisher Turner. Film by Sebastian Sharples. From Lana Lara Lata 2005.
Visit www.simonfisherturner.com

---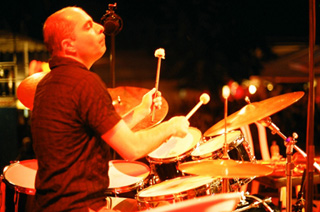 2006 Release: "We Are Falling"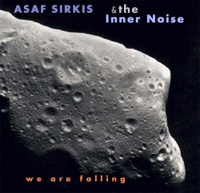 City Life Magazine, October 2005
Asaf Sirkis & The Inner Noise have real presence, albeit a malevolent one. Sirkis is an Israeli-born drummer with enough muscle to power a thunderstorm, whilst Mike Outram, the guitarist with the Inner Noise, is an invigorating player. The dominant voice on We Are Falling (Konnex), however, is Steve Lodder's sombre church-like organ. The drama comes in the contrast between sepulchral chill (Lodder) and the forces of light (Outram), as Sirkis splinters the rhythm into jagged counter-patterns. -- Mike Butler

Musician Magazine,
Sept. 2005
Drummer Asaf Sirkis composes and arranges all the tracks on this dreamy album It is an experimental piece for a niche market, flirting with atonality and nearly-but-not-quite melodies that are skewed by unexpected twists and turns. All this to a backdrop of drums and nervous, skittering synths together with more challenging, unidentified sounds. Most intriguing.

click here for more reviews...

Preview "We Are Falling"
60 second mp3s below:

1. Another Being
2. Life Itself
3. Galactic Citizen (Part 1)
4. Galactic Citizen (Part 2)
5. We Are Falling
6. The Bottomless Pit Surounding You
7. Spirit
8. Ida & Dactyl (and Ghost of Dactyl)

We Are Falling- Order here
Released in 2005 on Konnex Records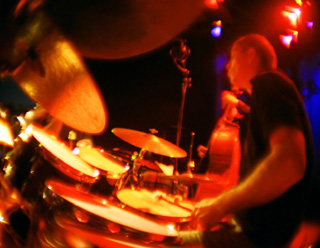 "Asaf Sirkis is a great young Israeli drummer who, since his arrival in Britain in April 1999, has begun to make major waves on the British jazz scene." Dan Somogyi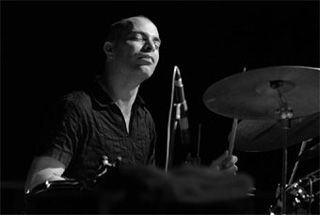 Playing at Monfalcone Festival, Italy, July 2004

Fusing Many Styles

Asaf is an inspiring drummer and composer with a wide musical vocabulary. As the rhythmic force behind Gilad Atzmon's "Orient House Ensemble," Asaf has quickly become one of the hottest rising stars in Europe. Last year's BBC Music Award for "Exile" as Best Jazz Album of the Year has introduced Asaf to an even larger audience of fans via the "Orient House Ensemble."

With his own band, "Inner Noise," Asaf has developed a very progressive sound that is indeed hard to put a label on. Check out the mp3 samples above and in the right column.

"Is it bop, rock, fusion, modern jazz or what else? It is difficult to answer this question, as Sirkis' intense music seems to contain elements of different kinds, nonetheless creating a style of its own, influenced by his Middle East roots." - Juergen Wolf

Asaf Sirkis & the Inner Noise are:
Steve Lodder- Church organ
Mike Outram- Guitar
Asaf Sirkis- Drums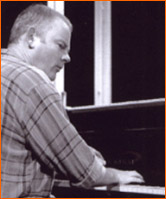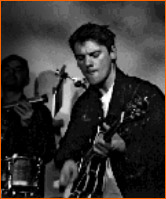 Gilad Atzmon & The Orient House Ensemble

Check out Asaf's drumming on "Exile" and other recordings by clickin on the album cover below.
"This album is bound to make some people angry. The musicians, all exiles, use traditional Jewish and Israeli melodies as the basis for tunes that tell stories of Palestinian suffering. Regardless of whether you agree with the message, it's hard to deny the beauty of the music." - Steve Greenlee, Boston Globe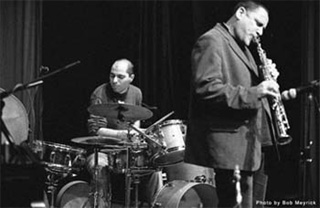 Playing with Gilad Atzmon at Nottingham
(photo by Bob Meyrick)

"Jazz in the '50s and '60s was inextricably linked to the Civil Rights Movement in the US; and the music of Israeli-born reeds-playing genius, Gilad Atzmon, is similarly enmeshed with the struggles of the Palestinian people" -Joe Cushley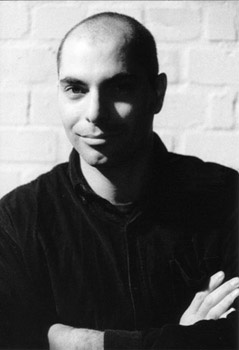 Asaf 2002 (photo by Nick Rabbet)

ASAF's Bio

Born in 1969 in Petah-Tikva, Israel, Asaf later moved to the town of Rehovot, where he spent his teens and early twenties. This was an influential move for Asaf, as it was here amongst the diverse cultural influences he found in Rehovot that Asaf began to show an interest in music and rhythm. In Rehovot he lived amongst people from North Africa, east and central Europe, and the Middle East. Living in Shaarayim, the Yemenite neighbourhood in Rehovot, Asaf was particularly drawn to Yemenite culture, music, and rhythms.
At the age of 12 Asaf began drum lessons, while also having a strong interest in playing electric bass. The music that influenced Asaf at the time still influences his writing and playing till this day; The Beatles, Police, Yes, Genesis, Mahavishnu Orchestra, Allan Holdsworth, and Weather Report to name a few.
1987 – 1990 Asaf did his compulsory national service.
Out of the army in 1990, Asaf started his professional career as a musician playing with many different young Jazz-Rock, Kleizmer, world music, and Free Jazz bands. During that time he co-operated with Israel's local Jazz/world luminaries such as Harold Rubin, Albert Beger, Yair Dlal and Eyal Sela. Many of those early projects where recorded and released by a pioneer Jazz record label in Israel called Jazzis (founded by Adam Baruch). Around those years Asaf started to write music but it wasn't until 1995 when he formed his first trio that he found an outlet for his writing.
In 1993 moved to Tel-Aviv. While making his living playing mainly Jewish music Asaf continued to develop his own voice as a drummer and composer until, in 1995, formed his own trio (consisting of Kobi Arad on Keyboards and Gabriel Mayer on Bass) and recorded his first album 'One Step Close' (independent).
In 1996, Inspired by French Church Organ composers such as Olivier Messiaen, Maurice Durufle' and Cesar Frank he formed a unique new band 'The Inner Noise' consisting of Church Organ, Electric Guitar and Drums (with Adi Goldstein on Organ and Amir Perelman on Guitar). The Inner Noise's first project was commissioned by the Arts department of the Tel-Aviv City Council and was performed around Israel in 1997-8.
In October 1998 Asaf left Israel for Holland and then to France, and in April 1999 he settled to London.
In London, Asaf very soon become a part of the UK Jazz and world music scene. During that year he started working with Adel Salameh, a Palestinian Aud player/composer with whom he recorded the album 'Nuzha' which also featured, for the first time, Asaf's Middle Eastern frame drum playing.
Soon after arriving to the UK Asaf re-formed the Inner Noise band with Steve Lodder on Organ and Mike Outram on Guitar.
In 2000 Asaf met Gilad Atzmon, which was to be a start of a creative musical collaboration that remains to this day. With Atzmon they formed The Orient House Ensemble. This band has now recorded 6 albums ('Orient House', 'Nostalgico', 'Exile', 'Musik', 'Artie Fishel & the Promised Band', and 'Refuge'). OHE's album 'Exile' has won the 'Best CD of the Year' category at the BBC Jazz Award 2003 and nominated in the 'Best Band' category in 2004. The OHE performs regularly in many high profile festival and venues in the UK and in Europe.
In 2003 Asaf recorded the Inner Noise' first album ('Inner Noise', Konnex KCD 5113). 'Inner Noise' is widely considered a groundbreaking album and the music has been described as a new gender - 'Gothic Jazz'. The CD was chosen as one of the best albums of 2005 at the CHUOFM89 radio jazz station in Canada.
In 2006 Asaf started a unique collaboration with Saxophonist/composer Tim Garland and has enjoyed making four albums with him so far; 'If The Sea Replied' (The Lighthouse Trio), Due North (Northern Underground Orchestra), The Mystery (featuring Chick Corea and the Northern Simfonia Orchestra), and 'Libra' (The Lighthouse Trio).
With the Inner Noise band Asaf had made two more albums, 'We Are Falling' (Konnex 2005) and 'The Song Within' (SAM Productions/Egea 2007) which was selected as one of the best albums of 2007 at the 'All About Jazz' web-site by John Kelman.
While developing his own compositions, Asaf formed the Asaf Sirkis Trio in 2007 which features Greek guitarist Tassos Spiliotopoulos and Israeli bassist Yaron Stavi. This trio released their first album 'The Monk' in September, 2008 (SAM Productions/Egea) and is currently preparing a new release - 'Letting Go' - in September 2010.

Asaf is currently touring extensively with his Trio and with his 'Inner Noise' band, and is gaining in reputation as a composer and band leader.
Asaf is also working regularly with Larry Coryell's 'Power Trio' (featuring Larry Coryell on Guitar and Jeff Berlin on Bass), Nicolas Meier Group, a group that combines Jazz with Middle Eastern music (albums available: 'Ribbon In The Wind', 'Orient', 'Yuz' and 'Silence Talks'), and with John Law's Art Of Sound trio as well as working with other artists such as: Mark Egan, Dave Liebman, David Binney, Gary Husband, John Taylor, Norma Winstone, Andy Sheppard, Lenny Stern, Paul Bollenback (NY), Julian Siegel, Dan Stern, Peter King, Stan Sulzman, Barbaros Erkose (Turkey), Ari Brown (Chicago), Bela Szakcsi-Lokatos (Hungary), Glauco Venier (Italy), Yuri Goloubev (Russia), Klaus Gesing (Austria), Christoph Spendel (Germany), Eyal Maoz (NY), Carlos Barretto (Portugal), Simon Fisher Turner, Phil Robson, Arnie Somogyi, Martin Speake, Mark Latimer, Reem Kelani, Christine Tobin, Nicolas Meier, Tom Arthurs, John Etherigde and more.
visit Asaf's official website:
www.asafsirkis.co.uk

contact Asaf:
asafsirkis@gmail.com
Tel: 0044-(0)20-8889 6527
Mob: 0044-(0)7946-232 338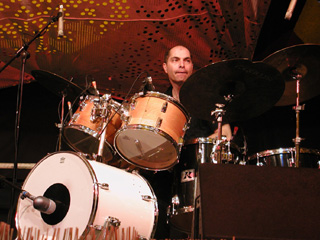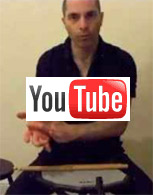 Visit Asaf's YouTube Channel

Visit Asaf on Facebook

Visit Asaf on MySpace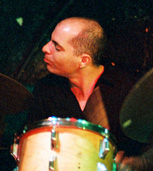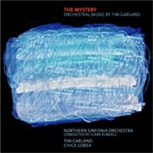 THE MYSTERY
released April 2007
featuring Tim Garland, the Northern Symphonia,
Chick Corea, and Asaf Sirkis

Listen to mp3 sample of title track: Mystery

Purchase at Amazon.co,uk

"A genuinely fine record... vital, essential music for anyone interested in the future of jazz composition." Jazzwise magazine

This seventy minute CD of orchestral music composed by Tim Garland integrates new orchestral music with the contemporary jazz world in a way seldom achieved, the jazz and modern-classical elements being present in equal measure.

www.timgarland.co.uk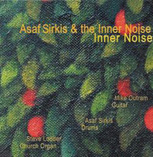 ASAF SIRKIS and the
INNER NOISE

Composed and arranged by Asaf Sirkis, this work is influenced by modern classical music and in particular the music of organ composers such as Olivier Messiaen and Maurice Durufle. Combining modern jazz and elements of progressive rock (Yes, Emerson Lake & Palmer), this album melds classical composing techniques with the nuances of jazz improvisation. The Inner Noise is an organ trio (organ, guitar and drums) with a new direction. By using church organ sounds rather then the traditional Hammond organ sounds, the trio creates a music that is rich and unique in spiritual tone.

Preview "Inner Noise" with the mp3s below:
1. Lucidity 7:46
2. Three Ways 4:59
3. Hope 8:30
4. Floating 6:53
5. Inner Noise 8:45
6. Desert Vision 11:19
7. The Only Way 9:12
8. Questions 3:06
9. White Elephant 12:05

Inner Noise - Order here
Released in 2003 on
Konnex Records

CD Review, Jazz UK
March/April 2003
(Issue 50), UK

Here's one that defies categorizations. Asaf Sirkis, the brilliant drummer with Gilad Atzmon's Orient House Ensemble, has here stumbled on a sub-genre that might become known as Gothic Jazz. The music is doom-laden and bombastic, yet strangely compelling. It has a strong flavour of Europian church music Ð Steve Lodder plays real church organ Ð and might appeal to anyone nostalgic for Emerson, Lake and Palmer. The rest of us can respond to the way Sirkis animates the church organ with his churning rhythms as guitarist Mike Outram floats above the melee with single-line solos that climax in crying high notes. The ecstasy owes to rock as much as rigorous old European church music. - Mike Butler



Asaf & Mike Outram,
Bonongton Theatre,
March 2004
(Photo by Bob Meyrick)

Renaissance Man
CD Review Reviewed:
February 2004, UK
Inner Noise - Epic Fusion
For The 21st Century

Asaf Sirkis, the world class drum phenomenon (reminiscent of Jack DeJohnette and Tony Williams at the height of their powers) that's taken the British scene by storm over the last few years, is perhaps best known as the engine of the rhythm section of the equally phenomenal Gilad Atzmon & The Orient House Ensemble (and the Gilad Atzmon Quartet).

The recently released album "Inner Noise" features the UK's leading drummer with his own trio, Asaf Sirkis & The Inner Noise. Originally partially commissioned by the Department of Arts of the Tel Aviv City Council, Sirkis' "Inner Noise" project was performed around Israel in 1997 to 1998 prior to his moving to the UK. Since moving to Britain in 1999, Asaf Sirkis has re-formed his Inner Noise trio with organist/keyboardist Steve Lodder and guitarist Mike Outram. "Inner Noise", Sirkis' second solo album was recorded in March 2002 at St. Michael's Church in Highgate, North London, and released in 2003 on Konnex Records.

Asaf Sirkis & The Inner Noise are about as far as you can get from a conventional organ trio, not only featuring as it does full-blown church organ rather than the traditional Hammond B3, but moreover, playing music on a truly epic, even monumental scale. First impressions of "Inner Noise" might recall Miles Davis and the Bitches' Brew project and John McLaughlin's Mahavishnu Orchestra in its first incarnation, as well as prog rock bands Emerson, Lake and Palmer and Yes (though without the remotest hint of the latter's near-plagiarism).

But such comparisons could never do this album proper justice, for it goes far beyond any of these yet maintains a far greater accessibility than Davis' and McLaughlin's brands of fusion. While all these are certainly influences, "Inner Noise" also shows clear influences of modern classical organ composers, in particular Olivier Messiaen, as well as of Arabic classical music. Sirkis gives all three instruments broadly equal importance and sculpts a vast soundscape of monumental proportions, employing strong, rich textures as well as delicate, transparent ones as appropriate, and making fullest use of the rich palette available to him, both in terms of the overall instrumental colours and the colours of his own trap set.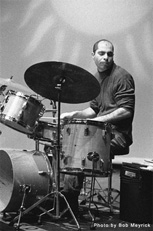 Asaf at Nottingham 2002
(photo by Bob Meyrick)

His drumming is as brilliantly virtuosic and inventive as has indeed become his trademark, combining subtlety and sheer effervescent exuberance, even ecstasy, and while running a tight ship, Sirkis also gives his fellow band members plenty of space where appropriate. Lodder's and Outram's playing complements the master drummer's perfectly, with both superb ensemble playing and outstanding soloing. The result is an album that is utterly absorbing and compelling and reveals Sirkis as a very formidable composer and arranger indeed. "Inner Noise" doesn't just push boundaries, it completely transcends them and thus defies categorisation. To describe it as a fusion of jazz, classical and progressive rock would tell only half the story. You could file "Inner Noise" under any of these genres, but you'll never confine it, any more than you could define it. One previous reviewer suggested the label "Gothic Jazz", a horrific oversimplification in my opinion if not a downright abomination. Far better to focus on just enjoying the experience that Asaf Sirkis & The Inner Noise provide with this most remarkable and intense album.

© 2004 Renaissance Man/Rainlore. All rights reserved