ARTIST'S: VyZ - MUSIC FOR MOVIES

NEW Release: "TORNADO"
VyZ - music for movies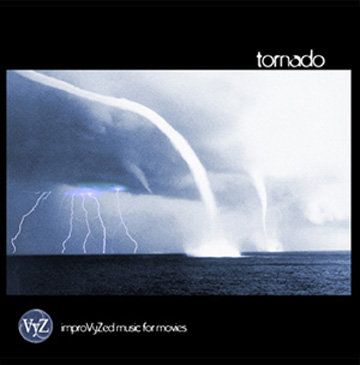 "Tornado" is a 43 minute improvization of live music recorded without any overdubs by "VyZ-music for movies". The music is an innovative cross between jazz, rock and classical genres that feature Rich Damone on bass, Charlie Tokarz on sax and flutes, and John Pritchard on drums and keyboards.

"VyZ" is all about improvised, spontaneous music...music performed freely in the moment...no rehearsing... no writing songs... just the pure, uninhibited sound created on the spot... not to mention, the sheer joy of playing with an amazing group of talented musicians that lets the music play through and go its own natural way... a true force of nature... a tornado of musical harmony... how is that for a paradox?
From the musicians:
Having an open mind to new ideas and experiments is always the playful method we prefer. It is in the optimistic light of free expression that we celebrate our improvisational music & film. We dedicate this improvisational "tornado" music to all creative artists and great improvisers past, present and future... especially Sam Rivers.
What Isn't Known About Tornadoes
In the presence of a tornado there are very high electromagnetic fields, visible light, and ball lightning. Tornadoes can cause physical objects to fuse into each other - where matter actually becomes able to permeate other matter. There are cases where two burnt and charred wooden boards were fused together by a tornado, even though they would crumble at the slightest touch. There were pebbles that had gone through glass without breaking the glass; pieces of straw that went through a window and got stuck in the window without breaking it. Tornadoes show that matter is able to disappear or become permeable to other matter in the presence of a strong enough electromagnetic field.
Meteorologists are not sure how tornadoes form but they do know that they are often associated with severe electrical storms. The key to understanding tornadoes is that they are the result of rapidly rotating electric charge. Just as electrons are the current carriers in the copper wires we use for power transmission, so they are in the tornado. The BIG difference is that the electrons are moving at many meters per second in the tornado while they take several hours to move one meter in the copper wire! The result is that enormously powerful electromagnetic forces are in control of the tornado. This effect has been called a "charged sheath vortex." www.holoscience.com


VyZ filmmaking band - Charlie Tokarz, Rich Damone, John Pritchard

ImproVyZed Music for Movies

As an improvisational multimedia band, VyZ began playing together in the spring of 2003. The band has always had a cinematic quality to its sound and the "music for movies" slogan quickly became a way to classify the VyZ style. While initially producing live imagery with the amazing G force visualization software, the group soon began improvising with movies from the Prelinger Film Archive, NASA, and the iLibrary of Congress.
---
VyZ has produced 3
"Music for Movies" DVDs (see below)
click on covers for more info...




Visit the VyZ website at:
www.vyzmovies.com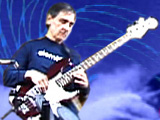 RICH DAMONE
Bass Guitar

Rich is a world-class bassist who innovates with electronic technology. He has performed with jazz legends such as Sam Rivers, Archie Shepp, Dave Liebman, Kenny Kirkland and the infamous Sun Ra drummer, Clifford Jarvis. Rich was the co-founder of The American Music Workshop and also a founding member of the highly acclaimed "Pure Sound Collective." He began his music career as a regular performer in the legendary "jazz-loft" sessions at Studio RivBea with Sam Rivers in New York City. Rich has also performed with other great musicians such as Jimmy Giuffre, Rob Zantay (Mr. Lyricon), Douglas Zantay, Gary Goldfarb, Val Michalski, John Simon, Jameel Moondoc, Ray Anderson, John Wolf, Royal Hartigan and Kenny Aronoff. Rich is R & D Director at Pritchard Digital Arts and is responsible for special projects and managing the band.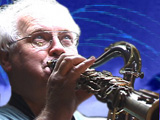 CHARLIE TOKARZ
Sax, Flute, Clarinet, & Wind Controller

Charlie is a multi-talented horn player and one of the only musicians who plays two saxes at the same time with multi-layered electric effects. He has performed with guitar master, Larry Coryell, Ed Mann of the Frank Zappa band, and Charles Neville of the Neville Brothers. He has also played with bands at the White House, Today Show, 92nd Street Y, MASS MOCA, Merce Cunningham Studios, Club Helsinki, as well as, recorded music for HBO. He has performed regularly with master drummer Bob Weiner at Earth Dance and Kripalu Yoga Center, and recorded and performed with the group Shakti Fusion in New York and the Caribbean. When he is not playing music, Charlie teaches at Hotchkiss School in CT and the Steiner School in Great Barrington, MA.



JOHN PRITCHARD
Drums & Keyboards

John is a multimedia pioneer and an award-winning digital artist and filmmaker. He is also an electro-acoustic drummer who plays midi drums and keyboards simultaneously. He has performed with "Blood, Sweat & Tears" saxophonist, Fred Lipsius; Native American flute master and Nammy award nominee, Ken Littlehawk; and jammed with legendary drummer, Jack DeJohnette at St. John The Divine Cathedral in NYC. In 2001, John launched the Pritchard Digital Arts as a training and consulting company for specializing in digital filmmaking and interactive design for dvds and the web. He has traveled all over the world since living in Argentina from '69 to '72 and got his first grant to film in China in 1983. He has produced commercial CD-ROMs for Microsoft, Canon, and McGraw-Hill, as well as, live concert webcasts, digital movies and Award-winning flash web sites. John has produced 3 VyZ DVD movies (see above) and a couple fun indie music films: "Metalheads" (mosh pit slam dancing spoof) and "A Part Apart" (featuring innovative drum legend, Bill Bruford). John recently announced a collaborative website project with Adam Holzman celebrating the amazing animation of the Fleischer Brothers' 1941-43 classic Superman films: www.artofsuperman.com. The site features new soundtrack music composed by John and Adam set to 8 of the original Superman short film animations.