KEYBOARDIST/COMPOSER
ADAM HOLZMAN

APRIL 2, 2015
NEW SOLO PIANO ALBUM REVIEW!
Adam Holzman - The Deform Variations
by John Kelman for All About Jazz



"...amongst the many remarkable qualities of The Deform Variations is how each miniature, ranging from just under a minute to twenty seconds shy of three minutes, manages to somehow stand alone as a distinct entity yet, when taken as a whole, seems to possess an overarching narrative that makes absorbing the album in its entirety the best—the only—way to truly experience The Deform Variations.

A true crossover album that takes the introduction to a song from a progressive rock album and tour and transforms it into an album that easily fits into the jazz world, The Deform Variations is the kind of record that could, for those with open minds, drive progressive rock fans to explore more in that world while at the same time, perhaps, suggesting to jazz fans that there may be more to progressive rock than mellotrons, epic songwriting and mixed meters (not that there's anything wrong with that).

Music is, after all, just music; and while labels have emerged over the centuries to try and pigeonhole it into smaller boxes that make it easier to define and digest, the truth is that, in the 21st century more than any that has come before, music is increasingly about cross-pollination and the dissolving of unnecessary boundaries, be they cultural or stylistic. Holzman has, with the superb The Deform Variations, delivered an album that makes this point with absolute, crystal clarity.

Read entire review here!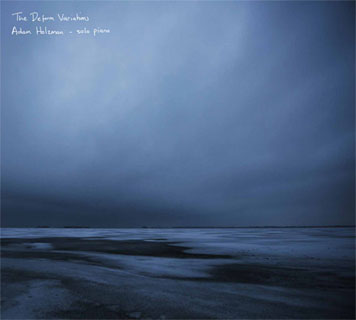 BUY ALBUM HERE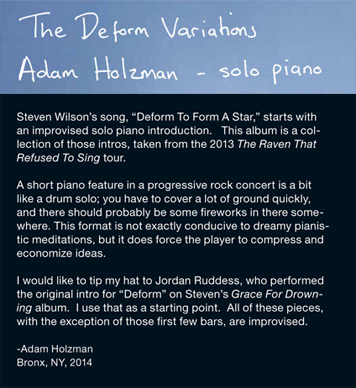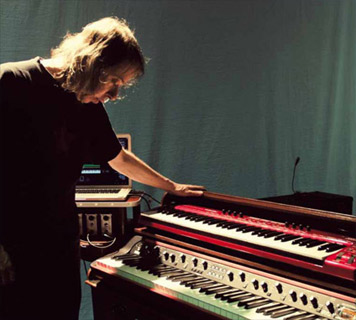 ---
BRAVE NEW WORLD CD - "SPORK"

Featuring
Adam Holzman: Keyboards
Aaron Heick: Saxophone
Freddy Cash Jr: Bass
Mitch Stein: Guitar
Abe Fogle: Drums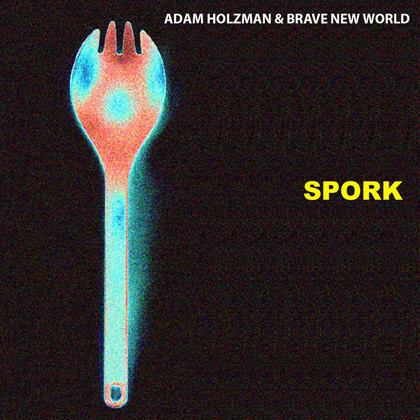 "2010 release. Keyboard virtuoso Adam Holzman & Brave New World are back with a phenomenal new release reminiscent of the classic 1970's progressive/fusion sound. Includes 7 Holzman originals and a cover of Joe Zawinul's "Orange Lady". Highly Recommended !!" - Audiophile Imports

The new Brave New World album, "Spork," is now on sale (see ordering info below). Adam is thrilled to be working with mixing wizard Jeff Jones, also known as the Jedi Master. Adam worked with Jeff a while back at RVI studios, and Jeff helped record and mix Adam's first solo album, "In A Loud Way." Jeff recently won a Grammy for his production work on Dr. John's new CD, "The City That Care Forgot."

The album, originally intended as a 25 minute EP, will now be a regular length CD. Adam says "we had enough strong material, so what the heck..." The recording approach and the material are very 'old school'; most of the songs were recorded live in the studio, that is, the whole band playing together at the same time, like back-in-the-day! The music is uncompromising, there are no attempts at a 'radio song', just loud, blazing, EPIC slabs of face-melting jazz-rock. Tracking was done at world famous Avatar Studios in New York City, and mixing is proceeding at Jeff Jones' World Alert Studios, also in New York.

Why "Spork"? Well, sporks don't fit easily into any common category. Neither does jazz-rock! ...And there you have it!!!

Make sure you don't miss out on this sure-to-be-a-collector's-item-maybe-sometime-pretty-far-down-the-road-in- the-future Special Preview Edition!

ORDERING INFO FOR "SPORK"
- SPECIAL PREVIEW EDITION

We are selling a "Special Preview Edition" of the CD. This edition of SPORK comes in a glossy color cardboard "album cover", not a standard jewel box.

Ordering details are pretty much the same as with the other CDs we sell from the web...

The SPORK "Special Preview Edition" CD is $15.00

Shipping within the USA is only $2 bux, so the grand total (including mailing ) is $17.00!

(If ordering from Europe or overseas, shipping cost is $5 USD, so the grand total is $20 USD.)

[If you are ordering more than 2 copies shipping might be slightly higher]

Please send a check or money order (or international traveler's check) made out to "Adam Holzman" and mail to:

Adam Holzman/Spork CD
130 E. 238th St.
Bronx, New York
10470
[USA]

---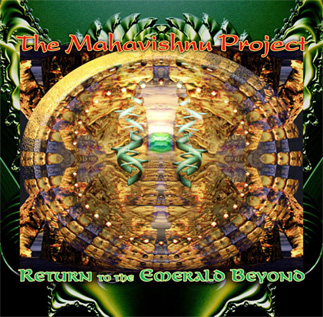 Adam has been playing with the Mahavishnu Project since 2006 and this new release of "Return to the Emerald Beyond" is a killer tribute to the great Mahavishnu band.

"Return to the Emerald Beyond" was recorded live in concert and contains nearly two hours of music, including three bonus tracks!

Preview tracks on the album at www.mahavishnuproject.com

REVIEW: Drummer Gregg Bendian's Mahavishnu Project is at it again: taking a complete recorded work by John McLaughlin's second (expanded) version of the original band, and playing it live. Visions of the Emerald Beyond is unusual as a Mahavishnu Orchestra title in that very little of it was performed live, and was never entertained as a live date, according to Bendian in his liner notes. You'd never know it. With Bendian, guitarist Glenn Alexander, bassist David Johnson, and keyboard whiz Adam Holzman, the rest of the players, including a string section, Premik Russell Tubbs plays both saxophones and flutes. Minimal vocal chores are accomplished beautifully and naturally by Mariah Neckham.

If anyone can help us hear the original album in a new light in Return to the Emerald Beyond, it's Bendian. Having performed the first version of every title the original Mahavishnu Orchestra released, the Project had a duty in their collective mind to move on past the confines of the early band just as McLaughlin did, realizing his dream of a "full" orchestra on Visions of the Emerald Beyond with an expanded string section. This 11-piece does just that on Return to the Emerald Beyond. As is their wont, they performed the album live for an entire summer and took the best versions of the individual tracks to compile the CD. Sonically, it's warm, immediate and full. Musically, it's revelatory. Revisiting an album that early Mahavishnu fans had trouble with, proves the longevity and enduring contribution of the music, but more importantly, in the process, that this was music that can be, and perhaps should be, performed live. The guitar work of Alexander is full of emotion and power, but also restraint as he moves through the knotty changes in McLaughlin's compositions. Rob Thomas' solo violin work meets the challenge of Jean-Luc Ponty's original parts with an edginess and mutability that is rather astonishing. Bendian is no mere timekeeper; he's music director, leading and guiding the changes and improvisations in these pieces (check out the opener "Eternity's Breath" and "Can't Stand Your Funk" on disc one, as well as "Earth Ship" and "Vital Transformation" on disc two). The ensemble playing is tight but also very flexible, creating space inside some of these tunes that is not there on the studio recording but is necessary in live performance. In sum then, the Mahavishnu Project has accomplished not only their goal, but has also revealed how necessary and filled with innovation Visions of the Emerald Beyond is; placing the jazz-rock of the '70s firmly in the continuum of the music's tradition, and offering a place for those compelled to both listen to and play it as a way inside the complexity of the music and its emotion. - AMG
---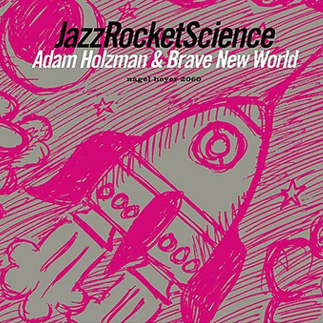 ORDER NOW FROM AMAZON.COM

"...Jazz Rocket Science is a seminole recording in every way and brings all of Adam's skills as a composer, bandleader, and keyboard player into extreme focus. There isn't a single moment of music on this recording that is disappointing or less than exceptional...

...Jazz Rocket Science has it all. Fantastic musicianship that has the funk and the groove going in high gear, yet totally accessible. The compositions still amaze me, after dozens of listenings. Deep rich melodies, tasteful and stylish musical structure, highly skilled and perfectly played throughout by all the musicians on board. Every note is significant and bears up under close listening." read full review by Rick Calic, jazzrockworld.com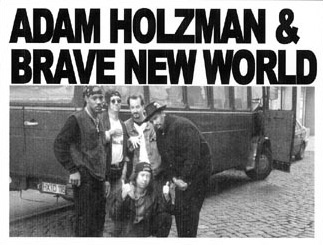 "I think for what we're doing - instrumental music or jazz-rock - it's gotta be live for it to have the exciting edge... Music that is focused on players and soloists is always going to come across better when it has that live feeling on it." A.H.

Adam Holzman is simply one of the most innovative musicians on the planet. "Keyboard" magazine named him one of the top 10 players in the world, "Down Beat" lauded his "killer groove" and the "New York Times" and the "Washington Post" have praised his live performances.

One of Adam's first big jobs was a new recording of the opera "Carmina Burana" by composer Carl Orff, led by Ray Manzarek of the "Doors" and produced by Phillip Glass.

In 1985, Miles Davis first hired Adam for some keyboard work for "Tutu" and then as second keyboarder for the following live tour. While Miles Davis hired and fired musicians at an enormous rate during these years, Adam actually stayed for almost 5 years. "I must have done something right", Holzman says today."I was so nervous in the beginning - I didn't think I would survive the first tour." He must have done a lot of things right, since Miles later promoted him to "musical director", when Robert Irving left the band in 1988.

During the 90's, Adam recorded 4 albums with his own band, "Brave New World," and worked with artists such as Michel Petrucciani, Chaka Khan, Robben Ford, Wayne Shorter, and Grover Washington.


During the past three years, Adam has released 4 live cd recordings of "Brave New World"as part of the "Alive" series and currently plays with the highly acclaimed Wallace Roney Quintet.

In addition, Adam has produced several new Miles Davis projects for Sony. ,

SPECIAL PROJECT
Adam served as co-producer in 1998 for "Live Around The World" (Warner Bros.). The album documents various gigs with the late '80s Miles Davis Band that featured himself on keyboards, Ricky Wellman on drums, Kenny Garrett on saxes, Benny Reitveld on bass and Foley on lead bass.... see below.



Live Around the World [LIVE] - Miles Davis
The body of work Miles Davis created in his 40-plus years of recording makes the word "incomparable" grossly inadequate. So, it should be no surprise that these live recordings, drawn from the last three years of his life, are nothing short of remarkable. This collection highlights Davis's funkier 80s repertoire. From the laid back groove of "Mr. Pastorius" to the driving rhythms of "Wrinkle," this was Davis redefining jazz. Even more remarkably, it was all recorded digitally in stereo with no remixes, no overdubs, and a sound so perfect that most musicians couldn't match those standards in a studio. The album's closing version of "Hannibal" was drawn from Davis's final performance, giving both the already haunting composition and the entire album an added poignancy. Jazz doesn't get much better than Davis, and live recordings don't get much better than this. --Bill Snyder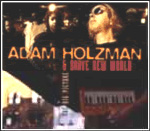 THE BIG PICTURE
ADAM HOLZMAN
& BRAVE NEW WORLD
by Mark Gilbert

Holzman's generally hard-hitting, metallic, harmonically rich and thematically ingenious brand of fusion is well-known from his previous dates as leader, including Overdrive and Manifesto, and from his tenure as MD of the Miles Davis band, 1985-89, into which he brought a particular and distinctive texture and voicing.

To date his writing has been characterised by a smooth integration of go-go beats, rap and so on into a credible jazz context, where improvisation and interaction are not compromised. Here he makes something of a departure, adopting a somewhat cooler, less dense and marginally more abstract approach. However, still at the heart of his style is imaginative and precise orchestration of an array of electric instruments and saxophone over rock-solid back beats.

Soloists may generally get only a small look-in, through the windows for improvisation which are part of the overall structure, but that is the way the music is designed to be, and on that basis it is consistently successful.

This is grown-up fusion, with the freneticism of its 1970s pre-cursors cooled off and a more sophisticated vocabulary brought to bear. Those for whom the jazz solo is supreme might try The Hot Zone, where Holzman and Heick burn at length like Hancock and Shorter.



visit Adam's official website:
www.adamholzman.com


contact Adam:
adamhjaneg@aol.com